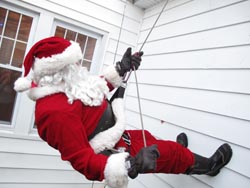 This is an excellent way for us to give back to our customers
Neptune, NJ (PRWEB) December 08, 2011
Annually, consumers out doing their Holiday Shopping are bombarded with deals, specials, sales and gimmicks. One of the most popular offerings is Free Shipping. This offering is extremely intriguing due to the ever increasing cost of shipping due to fuel prices and other variables.
Shopping during this Holiday Season will become easier for many consumers - especially for firefighters, EMT's, Police Officers, Rescue Workers and their families. That's because one of the largest supplier of Firefighter, Public Safety and Emergency Equipment is offering Free Shipping during the month of December.
All Hands Fire Equipment - based in Neptune NJ - an e-commerce superstore announced the Free Shipping offering this week.
"We have offered a variety of deals and specials, such as Free Shipping in previous years", said All Hands Fire Equipment President Donald Colarusso a Firefighter with more than 24 years experience. "We have always seen an increase in consumers taking advantage of this particular offer, this year we are expecting people to enjoy this offer due to the economy and people looking to save".
This particular offer includes Free Shipping on sales over $100.00. Even if a product is on sale or special, the Free Shipping offer is still provided.
Firefighter gifts that All Hands Fire Equipment have found to be popular during the Holiday season include Cairns Fire Helmets, Gemtor 541NYC Harnesses, Sterling F4 Firefighter Escape Systems, select Firefighting Gloves, Firefighting Boots and Fire Hoods.
"Our company has always been sensitive to the customer's needs and their budget. This is an excellent way for us to give back to our customers", Colarusso said. In addition to making ordering online more attractive, Free Shipping, when positioned properly can be a powerful customer loyalty building tool.
###