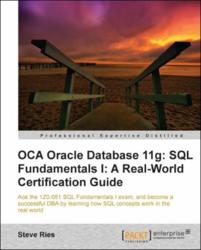 UK (PRWEB) December 08, 2011
Birmingham: Packt is pleased to announce the publication of "OCA Oracle Database 11g: SQL Fundamentals I: A Real World Certification Guide" which has been developed to help aspiring DBAs ace the 1Z0-051 SQL Fundamentals I exam. The book is available now in print and eBook formats.
What is Oracle Database 11g? Oracle's Database 11g provides the foundation for IT to successfully deliver more information with a higher quality of service, whilst reducing the risk of change within IT, and making more efficient use of IT budgets. Oracle Database 11g delivers industry leading performance, scalability, security and reliability on a choice of clustered or single-servers running on Windows, Linux, and UNIX. It provides comprehensive features to easily manage the most demanding transaction processing, business intelligence, and content management applications.
And what is the book about? OCA Oracle Database 11g: SQL Fundamentals I: A Real World Certification Guide begins with the essentials of why databases are important and how they work. It then moves on to the explanation of concepts like querying and modifying data in Oracle using a vast range of techniques, such as data projection, selection, creation, joins, sub-queries and functions. It further includes topics that help create and manipulate database objects the same way as today's expert SQL programmers do.
The book's content includes information on creating complex reports by joining data from multiple tables, use of SQL in application development, insights into the fundamentals of databases, how they work and much more. The author has used a real world example-driven approach, that is easy to understand and will keep its readers engaged.
Packed with real world examples, this book is best suited for individuals, who need the essential skills to pass the Oracle Database SQL Fundamentals I exam and use those skills in daily life as an SQL developer or database administrator. This book is out now and available with Packt.
Packt Database books. Packt has been publishing Oracle Database books for several years, and titles have included:

Mastering Oracle Scheduler in Oracle 11g Databases
Oracle Application Express 3.2 - The Essentials and More
Oracle GoldenGate 11g Implementer's guide
Oracle Warehouse Builder 11g R2: Getting Started 2011
And many more.
About Packt Publishing:
Packt Publishing is one of the world's leading Publishers of Oracle titles. To date it has published more than 60 Oracle books across a wide variety of areas including the Database, Fusion Middleware and Business Applications. The complete Oracle catalogue can be found on the PacktPub.com website. Packt also has its own library platform – PacktLib where all the company's Oracle titles can be accessed for a low annual subscription.
###