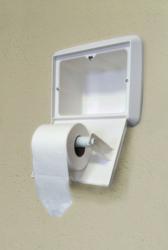 Stowbee is a patented, in-the-wall storage device that opens easily to dispense toilet tissue when needed.
Westfield, IN (PRWEB) December 08, 2011
Many new parents and pet owners are familiar with this scenario; coming home to find a literal "paper trail" leading to the bathroom. The culprits? Children and pets playing games with the toilet tissue. This common problem was the inspiration behind the invention of Stowbee, an in-the-wall storage unit that opens easily to dispense toilet tissue when needed. The idea came about when Stowbee inventor Chad Walters heard several complaints about toilet paper messes, and decided to do something about it.
"A friend of mine always left his bathroom door shut because his cats would continuously make messes with the toilet paper. Meanwhile at my own house, my two year old was playing with the T.P. like it was his new favorite toy. This started the gears turning and I asked myself, 'Why would anyone hang toilet paper on the wall? It's not like it's decorative.' Then I began reading about the health problems for pets and realized this could be fixed. That's how the Stowbee was invented.
The product, originally called "Hidden TP", was recently re-branded by company naming consultants at Tungsten Branding. "What we saw in the product," states Tungsten president, Phil Davis, "was an opportunity to define a whole new category. Stowbee does just that, providing a sense of storage made easy."
Stowbee is constructed with durable ABS plastic and can hold even jumbo sized toilet paper rolls. The units measure 10.5 inches by 8.5 inches wide and protrude just 1.5 inches from the wall once installed.
With thousands of units in stock, Stowbee is the perfect holiday gift for pet lovers and new parents. The company has begun advertising in pet publications as well as launching a new e-commerce site. According to company representative, J.R. Freiburger, the units can be installed in a matter of minutes using common household tools.
"We've had a number of customers decorate their Stowbees with decals that fit their bathroom motifs, anything from college mascots, to sports teams, to cartoon characters," Freiburger continues. "It's especially great for kids' bathrooms since they can be decorated and redecorated as they grow."
Currently, the patented containers are available only online. "We're looking at various distribution partners and channels," Freiburger adds, "The idea of a clean, attractive bathroom improves the look and feel of a home, so we see nothing but continued growth for this product."
For those homeowners with prying little hands and paws, Stowbee units are available for immediate shipping by visiting Stowbee.com. Units retail for $24.95 plus shipping with additional product information available on the product website.
###