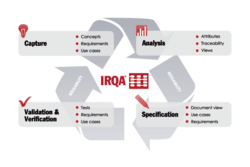 Visure's platform is exactly the kind of unique and innovative product our customers want to support their critical process needs.
Madrid, Spain and Bowie, Maryland (PRWEB) December 08, 2011
Visure Solutions today announced a new reseller partnership with Bay State Computers that will give federal customers their first chance to use Visure's complete and flexible IRQA requirements engineering solution. The new partnership will make the award-winning platform available through the National Institutes of Health Information Technology Acquisition and Assessment Center (NITAAC) Electronic Commodity Store III (ECS III). ECS III is a government-wide acquisition contract open to all federal agencies, government contractors and other organizations authorized by statute or regulation to use federal vehicles as a source of IT supplies.
"This new strategic partnership with Bay State Computers will strengthen our position as a leader in requirements engineering solutions," said Baldo Rincon, CEO of Visure Solutions. "IRQA fulfills a critical need in the application development lifecycle, and allows systems and software engineers to understand, review, specify, validate and verify requirements, with a direct impact on every phase of development from project management and design to test management."
In addition to the IRQA platform itself, Visure Solutions has also packaged best practices methodology and training together so companies can move quickly through the education process and be productive immediately. These packages are also available through this contract. "It's all part of our commitment to offering open, best-of-breed solutions and allowing clients to build a custom, multi-vendor suite to meet their precise needs," commented Visure's Rincon.
For Bay State Computers, the partnership with Visure Solutions was a natural fit. "Bay State has been serving the needs of systems and software engineers and the complete application lifecycle, with a special emphasis on requirements management, for more than 10 years," said Patricia Hill, CEO of Bay State Computers. "Visure's platform is exactly the kind of unique and innovative product our customers want to support their critical process needs."
About Bay State Computers
Bay State is a woman-owned, ISO 9001-certified small business, headquartered in Bowie, Maryland. With more than 20 years expertise in IT infrastructure, Requirements Management, Enterprise Architecture, and Information Assurance, the firm is a leading provider of Enterprise Lifecycle Management solutions. Bay State's customers include many prominent public and private sector organizations, with particular concentrations in federal and state government and healthcare. Company and product information is available on the Web at http://www.bayst.com.
About Visure
Visure Solutions, The Requirements Company, is the market leader in Requirements Engineering. With IRQA as our centralized requirements platform, Visure offers specialized and innovative solutions that are easy to use in the implementation of efficient processes for the requirements definition and management, and thereby guarantee the highest quality in the development of the products, systems and services of our clients. IRQA's quality and state-of-the-art features are endorsed by the world's leading organizations. This platform and the deep and wide-ranging experience of our people in the development and implementation of requirements solutions are our key assets and our client's the best guarantee.
Headquartered in Tres Cantos, Madrid, Spain. Visure has presence in the US as well as such countries as Austria, Belgium, Brazil, Canada, China, Colombia, Denmark, Finland, France, Germany, Italy, India, Luxembourg, Mexico, The Netherlands, Norway, Portugal, Spain, Sweden, Switzerland, United States among others. For more information, please visit http://www.visuresolutions.com.
###