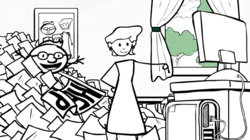 The commercial is funny and informative, which is a great way to reach students without preaching.
Schenectady, NY (PRWEB) December 08, 2011
RSC Your College Prep Expert has released its first commercial for families and their college-bound students. The one-minute animated advertisement follows the misadventures of a student preparing for college. Overloaded by online information, the student and his father struggle to learn more about applying for college, college prep and financial aid. That's when mom lets them know about CollegePrepExpert.com.
"The commercial is both funny and informative, which is a great way to reach students without preaching," says John Braat, Executive Director of Student Enrollment.
The commercial will enjoy its initial release on RSC's CollegePrepExpert YouTube channel, but will soon be added to the company's Facebook page, as well as Twitter, Tumblr, and Knowledge Bound: The RSC Blog sites.
This animated commercial was a joint effort between RSC and animator Doug Simon. Written by RSC's Communications Director John Briggs, animation was completed by Mr. Simon, a 2007 graduate of the Art Institute of Boston, best known for his work on "The Terrible Old Man." Working Pictures of Albany, NY, recruited actor Ben Katagiri to provide the voice talent. Mr. Katagiri is also the host of RSC's Free Report and can be seen in an upcoming live-action commercial for the company. Mr. Simon is currently developing an informational video with RSC, which the company hopes to release early next year.
"We're excited to be working with both Doug and Ben, and hope to continue working with them for years to come," said RSC's Executive Director of Student Services, Maura Kastberg, who is overseeing production of the new video.
The one-minute commercial was completed at a resolution of 640x360, a wide 16:9 format using Adobe Flash. This allows RSC to change the video to a higher resolution for later television viewing.
RSC Your College Prep Expert prepares students for college and career through an original online program of college research, SAT & ACT prep, financial aid advice, and more. Founder Larry Schechter's time-tested program has helped tens of thousands of students reach their educational goals. To learn more about RSC's unique approach to college prep, visit CollegePrepExpert.com or get updates at Twitter.com/rsccollegeprep. RSC Rewards Student Commitment.
###