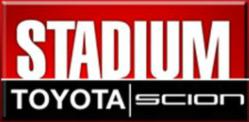 We have a large inventory of new 2012 Camry's as well as many choices of used or certified pre-owned Toyota Camry's available to meet the demand in the Tampa Bay market. – Kimberly Stockamore – Stadium Toyota Internet Sales Director.
Tampa, Florida (PRWEB) December 09, 2011
Stadium Toyota in Tampa FL has a large inventory of both new and used cars for sale in the greater Tampa Bay area.
The 2012 Toyota Camry has been newly redesigned from the inside out. 6.8 million Camry owners over the past 30 years can't be wrong! Here are some interesting Toyota Camry facts:

The Camry was originally introduced in 1983, replacing its successor the "Corona."
The word Camry is an anglicized version of the Japanese word Kanmuri, and translates to "crown."
In 1998, the Camry went from being manufactured as a narrow-body compact, to a wide-body mid-size.
The Camry was offered as a lift, or hatch back model only in 1986, this rare vehicle has been replaced by a station wagon design.
All Camry models feature four doors.
The Camry received the Highest Possible Ratings in its Class for Frontal, Side, and Roof Crash - Test results from the Insurance Institute for Highway Safety. (2007-2011 Camry Models Source: http://www.iihs.org).
In 2010 Motor intelligence named the Camry as the Best-Selling Car in America for 13 of the past 14 years.
The Camry was introduced as a full hybrid, (runs on electric, gas or a combo) in 2006.
Toyota launched the Camry Effect website where Camry lovers can share their personal story of why they love this automobile. At the time of writing there were over 14,915 "Camry Effect" contributors.
Here are some good reasons to choose Stadium Toyota when shopping for new or used cars in Tampa:
Over 100 used cars from $5,000 available on the lot every day.
Trade Pay Offs, no matter what you owe.
0% financing for 60 months for all qualified buyers. (On select vehicles and upon approved credit.)
Winner of the President's Award 17 times.
Easy to find at 5088 N. Dale Mabry Highway in Tampa, just north of Raymond James Stadium, home of the Tampa Bay Buccaneers.
The Stadium Toyota website features a new and used inventory search tool designed to make it very easy to find the Car, Truck, SUV or Hybrid an auto shopper is looking for. Search parameters include options to search and sort by Model, Year, Trim, and MPG (Highway). Another useful feature of the website is the "Black Book" online appraisal tool, so a web visitor knows the value of a trade in before shopping for a vehicle. Don't miss the Internet Savings voucher available on the site that offers $300 off any new or used vehicle, when signed by the Internet Sales department manager.
"In addition to many innovations on the Stadium Toyota website there are some design renovations happening that will improve the look and accessibility of the dealership. Regular updates on the Stadium Toyota Facebook page and in the email newsletter help to keep interested Stadium Toyota fans informed. The Stadium Toyota team been increasing activity in our local community by sponsoring the Macdill Air Fest and hosting an event in which Big Cat Rescue was a local Tampa winner of Toyota's "100 cars for good" campaign. On Nov 2nd they were awarded a brand new Toyota Tundra. Day passes were given away, valued at $10 to anyone who test drove a new Camry and all proceeds went to support the rescue center," states Kimberly Stockamore.
For more information about Stadium Toyota and the new and pre-owned cars featured please contact Kimberly Stockamore in the Internet Sales department by calling 813- 872- 4881, or stop by our dealership.
Stadium Toyota
5088 N. Dale Mabry Highway
Tampa, FL 33614
Hours of operation:
M-F 8:30 AM to 9:00 PM
Saturday 8:30 AM to 6:00 PM
Sunday 12:00 PM to 6:00 PM
http://www.stadiumtoyota.com
http://www.facebook.com/StadiumToyota
http://www.twitter.com/stadiumtoyota
# # #