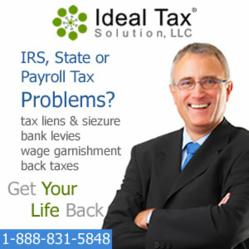 Costa Mesa, CA (PRWEB) December 07, 2011
Many Americans have witnessed the downward spiral of the economy. Remember the quaint ma and pa café in town that used to frequent? It's the one that is seen all boarded up now when passed by. It's one of thousands of small businesses across the country in the same predicament. Many businesses have gone under, leaving behind tax debts that cannot be paid. As frustrating as this may seem, there are legal solutions involving cooperation with the IRS that tax professionals can easily assist with.
Ideal Tax Solution's new Offer in Compromise program allows qualified individuals with an unpaid tax debt to negotiate a settled amount that is less than the total owed to clear the debt. Qualifications are based on a couple of different factors. The first is referred to as "doubt as to liability", basically meaning the debtor can give substantial proof that the tax liability is lesser than claimed by the government. The second is called "doubt as to collectability", which means the debtor can prove that the debt is likely uncollectible in full by the IRS under any circumstances. The third being "effective tax administration", debtor does not contest liability or collectability but can demonstrate extenuating or special circumstances that the collection of the debt would create an economic hardship or would be unfair and inequitable. These qualifications consistently help the elderly, people with special circumstances and small businesses. Unfortuantly once a business goes under the income of the business has ceased, making it impossible to pay large tax debts left over from the business. The second qualification benefits persons affected by this the most. No more income from the business, a lot less income for the business owner, requiring some sort of decrease in the amount owed for it to be realistically paid off. While there are never any guarantees, the new Offer in Compromise program has significantly helped debtors of all kinds, not just small businesses alone but personal cases aswell.
About the company: Ideal Tax Solution, LLC is located in Costa Mesa, CA and provides tax negotiation services, preparation and is a collection defense specialist. Their Tax Attorneys, IRS Enrolled Agents, CPA's, Senior Tax Consultants have over 55 years of combined experience working to help American tax payers with the IRS and State Tax Agencies. Ideal Tax boasts an "A" rating with the Better Business Bureau earned through providing excellent services.
###