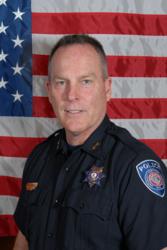 Chief Longman has the kind of extensive police experience that will make him an immediate asset to the Maricopa Community Colleges. --Maricopa Chancellor Rufus Glasper
Tempe, AZ (PRWEB) December 09, 2011
Mikel Longman, who served 34 years in a variety of police positions in Arizona, has been named Chief of Public Safety at the Maricopa Community Colleges. In this role, Longman will be responsible for achieving greater standardization and centralization of police functions at the 10 Maricopa Community Colleges.
"Chief Longman has the kind of extensive police experience that will make him an immediate asset to the Maricopa Community Colleges," said Maricopa Chancellor Rufus Glasper. "We believe he will provide the leadership we need as we move toward a more centralized public safety function in our District."
Longman comes to Maricopa from the University of Northern Colorado, where he was Chief of that institution's police department since January 2010.
Prior to that, he held a variety of policing positions in Arizona, including as a resident patrol office on the Navajo Reservation, supervising a motorcycle squad on the Phoenix metropolitan highway system, working in rural Arizona as a Highway Patrol officer, supervising an undercover narcotics squad and as a paramedic on a rescue helicopter.
Longman served as Executive Director of the Arizona Automobile Theft Authority, associate business manager of the Law Enforcement Merit System Council, commander of the Arizona Vehicle Theft Task Force, chief of the Criminal Investigations Division and chief of the Agency Support Division of the Arizona Department of Public Safety.
Longman is a graduate of the FBI National Academy, has a Bachelor of Science Degree in Public Safety Administration from Grand Canyon University, and is a graduate of the Arizona State University Management and Leadership Institute. He is active in numerous professional associations, including the Colorado and International Association of Chiefs of Police and the Rocky Mountain Chapter of the FBI National Academy Associates and is a certified police instructor.
He served as the 2008-2009 president of the International Association of Auto Theft Investigators. He also served on the Board of Directors for Special Olympics Arizona and has been actively involved with the Law Enforcement Torch Run for Special Olympics for more than 20 years.
The Maricopa County Community College District is one of the largest community college districts in the nation. It includes 10 colleges – Chandler-Gilbert Community College, Estrella Mountain Community College, GateWay Community College, Glendale Community College, Mesa Community College, Paradise Valley Community College, Phoenix College, Rio Salado College, Scottsdale Community College and South Mountain Community College. The District also includes the Maricopa Skill Center, Southwest Skill Center, several satellite campuses and business and industry; technical and customized training institutes.
###