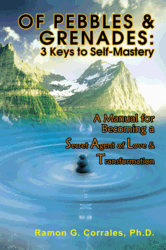 "Outside 'pebbles,' or the events in our lives, do not determine us," says Corrales. "Our responses do."
Kansas City, Kan. (PRWEB) December 12, 2011
A new book is providing readers an alternative to the rational approach to life.
Renowned leadership development expert Ramon G. Corrales, Ph.D., is providing readers the tools needed in self-development and leadership in his new book "Of Pebbles & Grenades: 3 Keys to Self-Mastery" (published by AuthorHouse). Founded upon what Corrales calls the three major aspects of life that should be mastered, the book provides practical insight into the importance of self-responsibility, emotional intelligence and maturity. Corrales presents and expands upon three metaphors to aid in better understanding these concepts, including:

The pebble-ripple metaphor for self-responsibility
The pebble-grenade-jewel metaphor for emotional intelligence
The three major altitudes reflecting the levels of maturity we experience
"Outside 'pebbles,' or the events in our lives, do not determine us," says Corrales. "Our responses do. The world of power consumes, the world of fairness fails, but the world of purpose saves. This book communicates that."
Corrales is the founder of the Integral Mastery Center, dedicated to the development of integral leadership in both personal and business contexts. He also developed the Code of Wisdom, the theory that serves as the foundation for his work. Corrales, who holds a doctorate in sociology, specialized in family sociology and organizational dynamics, allowing him to present a vast perspective in his corporate work.
"Of Pebbles & Grenades" aims to create and nurture individuals as leaders in various areas of their lives, expanding on the strength provided by emotional intelligence and self-responsibility, and the success assured by maturity.
"I want to get to the heart of current issues in life because I've been there and I've taught them as a husband, father, grandparent, therapist, coach, team builder and leadership expert," says Corrales. "We hold the key to our own dignity, not the outside world."
For more information, visit http://www.passionateleading.com or http://www.integralmasterycenter.com.
Of Pebbles & Grenades: 3 Keys to Self-Mastery
By Ramon Corrales, Ph.D.
Approximately 209 pages
ISBN: 9781463448202
Retail price: $18.95
About the author
Ramon Corrales is a life and leadership coach who has spent many years working in self-development, organizational development and team building. Born and raised in the Philippines, Corrales spent seven years as a monk in a Catholic monastery. He later spent a number of years as a family therapist, and is passionate about teaching others techniques for great leadership and successful relationships. This is the inspiration behind his SALT program (Secret Agents of Love & Transformation). He and his wife, Annabel, have two daughters and reside in the Greater Kansas City area. He plans to publish three more books in the SALT series.
**FOR IMMEDIATE RELEASE**
EDITORS: For review copies or interview requests, contact:
Jessica Kiefer
Phone: 317-602-7137
Email: jkiefer(at)bohlsenpr(dot)com
(When requesting a review copy, please provide a street address.)
###