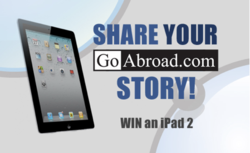 Why does Tonya GoAbroad? "To ensure that I live, love, and laugh in as many places in the world as possible!"
Fort Collins, CO (PRWEB) December 08, 2011
GoAbroad.com recently launched the "Why Do You GoAbroad" giveaway and is still encouraging travelers to share their stories and reasons for traveling abroad. December 16, 2011 at 11:59 pm MST is the cut-off date for the giveaway, so there is still plenty of time to submit an entry--and where one lucky traveler will be randomly chosen to win an Apple iPad 2!
Throughout the giveaway, GoAbroad has been sharing entries with GoAbroad's social media communities--which encompass over 45,000 world travelers--and will continue to do so until a winner is announced! This giveaway isn't just for students and all who appreciate travel and international experiences are invited to write a post and submit it for consideration on the GoAbroad Blog. This includes office directors, study abroad advisors, and even Presidents of companies. GoAbroad knows everyone has a reason for traveling the world, and the team wants to hear yours!
Please see the details below for how to enter the giveaway and spread the word to colleagues and students alike!
HOW TO ENTER THE GIVEAWAY
In order to enter the giveaway, travelers must write a post on their personal blog/website or GoAbroad.net Account** about why they go abroad and then leave a comment with the link to that post on the GoAbroad Blog. We will then be randomly selecting the winner based on the comment AND link to the post that travelers leave in the comment section.
**Don't have a GoAbroad.net Account? Sign up for one for free
GIVEAWAY GUIDELINES
The "Why Do You GoAbroad?" giveaway will run from November 15, 2011 to December 16, 2011 at 11:59 PM MST. Travelers who are 18 years and older and reside in the continental U.S.A. are eligible to win the iPad, but everyone is encouraged to share their story!
For guidelines on how to enter the giveaway and to submit your entry, please visit the GOABROAD GIVEAWAY BLOG POST
Please also see the GOABROAD GIVEAWAY FAQ PAGE for more detailed explanations
About GoAbroad
GoAbroad.com has been the web's premier resource for meaningful international experiences and alternative travel opportunities for more than a decade. The site boasts the largest and most comprehensive travel directories available online, while providing the most up-to-date and accurate information on programs available worldwide. For questions or for more details about GoAbroad and the "Why Do You GoAbroad?" giveaway, please contact Tiffany Harrison.
###