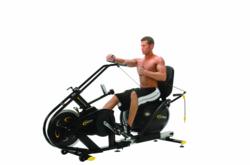 BallBike is the first truly new innovation in the fitness industry since the elliptical in the mid-nineties.
Canton, Ohio (PRWEB) December 09, 2011
Fit One is introducing the BallBike Revolution, the world's first full commercial Core-Cardio-Strength Cycle. The BallBike Revolution is a sleek machine that looks like the child of a motorcycle and an indoor bike with a stability ball seat. It is a single synergistic workout that works the whole body at the same time, to save time. Although it looks a little unusual at first, once you get the idea of sitting on the ball there is no going back to the awkward bike seats of the past.
The patented "controlled instability" cradle, which holds the stability ball, allows the user to work their core muscles while getting a full cardio workout. The heavy gauged steel frame has a step though design and incorporates 16 levels of magnetic resistance. Similar to an indoor or recumbent cycle, the BallBike Revolution allows users to work at a high level of impact free intensity. However, unlike a typical commercial bike, the BallBike adds a strength element by adding rubber resistance tubes which can be used for upper body conditioning. There is also the main benefit of working core muscles and getting a cardio workout with the comfort of the stability ball.
The workouts on this piece of equipment range from Group Exercise to Rehab and infinitely in between. The BallBike offers core, cardio and strength, in a full commercial product, into an industry that hasn't seen anything "truly" new since the elliptical in the mid-nineties.
The BallBike Revolution is slated for US distribution in Mid-January 2012 and can be seen in more detail on http://www.BallBike.com.
For more information contact Chuck Herman directly at cmherman(at)fitone(dot)org.
# # #