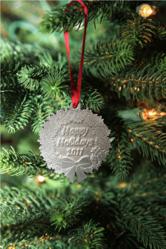 Atlanta, GA (PRWEB) December 09, 2011
While many of us are fortunate to have choices about what to feed ourselves and our families during the upcoming holiday season, many Americans are not. In fact, hunger is an issue for one in six Americans, many of whom are hard-working seniors and adults with children who are forced to go without food for several meals because they can no longer make ends meet.
That's why HoneyBaked has joined with the national non-profit, Feeding America, to support local community food banks this holiday season through their Give A Meal program.
In addition to food donations that local HoneyBaked locations make directly to local community food banks, HoneyBaked and Feeding America have made a limited edition holiday ornament available for sale at nearly 200 participating HoneyBaked retailers nationwide. Proceeds from each brushed metal ornament with red satin bow goes directly to supporting families and individuals in need. Through the Give A Meal program, every ornament purchase creates eight meals for Americans in need.
"Hunger in America is much more prevalent than is often perceived, and because of the recession it's been more challenging than ever for many families to have sustainable economic access to provide enough nutritious food to lead healthy and productive lives," said Chuck Bengochea, HoneyBaked President and CEO. "These challenges can be even more pronounced during the holidays, which is why HoneyBaked is partnering with Feeding America to give the gift of meals, providing relief and brightening the holidays for people dealing with hunger. We hope our customers will join us in this effort."
According to Feeding America and the US Department of Agriculture, the rise in unemployment and economic uncertainties in the United States have contributed to the number of households characterized as "food insecure." Food insecurity is the inability to consistently access nutritious and adequate amounts of food that are necessary for a healthy lifestyle. Although related, food insecurity and poverty are not the same. Unemployment, rather than
poverty, is a stronger predictor of food insecurity.
"Every holiday season, people are typically very generous. We are enthusiastic that this year, however, HoneyBaked is connecting its customers' purchases to help bring more food to those who may need it," said Leah Ray, Vice President of Corporate Partnerships for Feeding America. "That kind of direct connection helps people realize that hunger is in every community and gives them the motivation to be especially generous during the holiday season."
According to Feeding America, in 2010, 48.8 million Americans lived in food insecure households, or 32.6 million adults and 16.2 million children. This represents 14.5 percent of households.
For more information, to find the nearest HoneyBaked location near you, or to order online please visit http://www.HoneyBakedOnline.com.
HoneyBaked (http://www.honeybakedonline.com) is renowned for its slow-smoked, spiral-sliced HoneyBaked Hams and Turkey Breasts with signature sweet crunchy glaze, as well as a host of other entrees, side items and desserts. Since its founding in 1957, sharing and enjoying HoneyBaked premium foods has become a tradition for families nationwide who can now shop for them at more than 400 HoneyBaked locations and an online store. Whether its customers are marking holidays and special occasions or serving everyday meals, HoneyBaked helps families create life's delicious moments.
Media Contact:
Lucy Crosswell, 404-983-7406, lcrosswell(at)mcrae(dot)com
Karin Koser, 404-276-6027, kpk(at)mcrae(dot)com
###