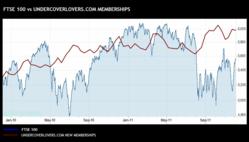 We've even noticed a correlation between our acquisition of new members and the mood of the financial markets
London, UK (PRWEB UK) 15 December 2011
Research by UndercoverLovers.com, an extra-marital dating site with over 565,000 members, found that more of its members work in Financial Services, than in any other profession. Lawyers, Doctors, Nurses, Company Executives and Directors were the next most common occupations of the site's members. And it seems, the worse the economic situation gets, the more people are being tempted to commit adultery.
Emily Pope, a spokesperson for UndercoverLovers.com, said: "The highest paid professions dominate our list, which is not surprising, since conducting an affair can be a costly business. Our members cite escaping from stress as a prime motive for their infidelity. Given the ongoing uncertainty in financial markets it's no wonder that so many City workers have joined our site."
She continues: "Whilst financial doom and gloom dominates the news, we're having a record year of growth. We've even noticed a correlation between our acquisition of new members and the mood of the markets. Whenever the FTSE 100 Index falls dramatically, our rate of new sign ups rises significantly. As far as we're concerned, roll on the next recession!"
Top 10 Most Adulterous Professions
1. Financial Services (25,522 UndercoverLovers.com Members)
2. Legal (23,489)
3. Healthcare/Medical (22,216)
4. Executive/Director (19,899)
5. Advertising/Marketing/PR (19,701)
6. Government (18,211)
7. Homemaker (17,089)
8. Travel/Hospitality (14,626)
9. Management/HR (12,573)
10. Sales (11,266)
Other occupations well represented on UndercoverLovers.com include Advertising and Marketing Professionals, Government workers and Homemakers. Emily Pope comments: "Stay at home wives tend to be married to the very same high earning professionals at the top of our list. Their prevalence on Undercover Lovers suggests that a good many desperate housewives in the UK's leafy suburbs are seeking extra-marital excitement at the same time as their husbands are philandering with their mistresses in City Centre hotels."
She adds: "The high number of our members working in Government jobs shows that some civil servants are enjoying extra perks on top of their gold-plated pensions."
About UndercoverLovers.com
UndercoverLovers.com was launched in 2009 ago and is the UK's foremost extra-marital dating agency. With over 565,000 members, the site was created to provide a safe, discreet and non-judgmental environment, where married women and men can meet. The majority of the site's members are 30 and 40 something professionals earning on average £10k more than the country's average wage and have been married 5+ years. Unusually for a dating website, Undercover Lovers has an even 50:50 ratio of men and women.
Undercover Lovers members are generally seeking to fill the gaps in their marital relationships, be they of a physical or emotional nature. For a variety of reasons they are not looking to dissolve their marriages (financial, children, much still OK with the marriage etc.). Meeting someone in a similar situation, and thus with the same expectations of a relationship, is for many the best solution.
Emily Pope states for UndercoverLovers.com: "We believe that British attitudes to adultery are often hypocritical. In a recent survey we conducted, 90% of British respondents said infidelity is wrong. Yet when asked if they would be unfaithful if guaranteed to get away with it, 55% of the same respondents said they would. We are seeking to challenge the orthodoxy, as often expressed in the British media, that affairs are necessarily destructive to marriages."
She continues: "The success of Undercover Lovers proves that in reality more and more British spouses are adopting a more Continental approach to their marriages by having affairs, but are not necessarily being honest about it due to outdated societal mores. We are committed to creating a more open discussion about the issue."
Contact:
Emily Pope or Roger Dugarry
07795 326505
UndercoverLovers.com