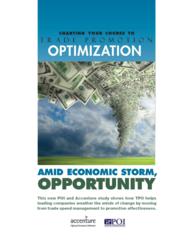 "2011 has been a watershed year both for adoption of trade promotion optimization (TPO) as well as the POI, our educational Certified Collaborative Marketer™, and our leadership initiatives," said Kantor.
West Nyack, New York (PRWEB) December 12, 2011
The adoption of trade promotion optimization (TPO) is growing among North American manufacturers and retailers the Promotion Optimization Institute (POI), the leading resource for trade marketing and merchandising executives, announced today. Michael Kantor, the CEO of the POI, attributes the growing adoption of collaborative TPO to the collective leadership of the POI board members as well as to retail and consumer packaged goods (CPG) early adoptees.
"2011 has been a watershed year both for adoption of trade promotion optimization (TPO) as well as the POI, our educational Certified Collaborative Marketer™, and our leadership initiatives," said Kantor. "We are excited about our progress, and looking forward to the initiatives we have planned in 2012 which we believe will help manufacturers and retailers increase mutual profitability."
Trade Promotion Optimization has been defined by both POI along with Gartner as "jointly planning and executing promotional activities that are mutually beneficial to manufacturer and retailer organizations because information-sharing allows the parties to better understand how success can best be achieved. Their ability to monitor and react during the promotion is high. The process is seen as a cycle for continuous improvement. Manufacturers and retailers alike have the culture, people and technology to make it happen."
Taking the Next Steps with Strategic Partners and Customers: Collaborative Promotion Optimization
"If you want to take the next steps in partnership with strategic customers and get more collaborative, you're going to have to get trade promotion optimization and trade promotion predictive analytics installed," said Chuck Scott, manager of demand planning and trade for Ainsworth Pet Nutrition during POI's Predictive Path to Promotion Optimization Summit. "As part of a customer intimacy initiative, we wanted to enhance our ability to be a value-added partner. Trade Promotion Optimization and Trade Promotion Predictive Analytics will help us bridge the gap and bring in actual market data – syndicated and point of sale (POS) data – as well as solid analytics on historical promotions and what-if activity on a future partnership basis."
Groundbreaking Research on Trade Promotion Optimization with the industry in 2011
Among the POI's accomplishments in 2011 were two separate research projects on TPO. The first research project, "Charting Your Course to Trade Promotion Optimization", was conducted with Accenture and found companies that have taken measureable steps in piloting and implementing TPO are:

Up to four times more likely to achieve and benefit from better promotional forecast accuracy
Up to seven times more likely to increase profitability
Furthermore, the POI and Accenture study shows how POI helps leading companies weather the winds of change in any economic condition by moving from trade spend management to promotion effectiveness.
The second research project POI conducted was with Capgemini titled the "Financial Framework for Trade Promotion Optimization Success". According to the report's findings, brand manufacturers need to tie marketing investments to a financial framework that is integrated across internal sales, marketing, finance and information technology organizations — as well as retail partners in order to be successful.
POI and Members Look Forward to 2012 with New Summits and Industry Research
POI will again be hosting two summits in 2012. POI's "Achieving Measurable Success with Collaborative Promotion Optimization Summit" will be held in Downtown Chicago, IL from April 18-19, 2012 and the second POI Summit will also be held in Chicago, IL from November 4- 6, 2012. In addition, the POI will be conducting and featuring new research, collaborative marketing case studies and networking with industry leaders in 2012.
About the Promotion Optimization Institute (POI)
POI brings together manufacturers, retailers, solution providers, analysts, academics and other industry leaders. Members of POI share cross-functional best practices in both structured and informal settings. Additionally, members benefit through our industry alliances, the Certified Collaborative Marketer (CCM)™program, industry leadership events, and the Promotional Collaboration Capability Matrix (PCCM). POI aims to instill a financial and metrics-based discipline not typically found with other trade groups. The goal of our innovative approach is collaborative promotion optimization. The focus is on the customer/shopper through sales, marketing, and merchandising strategies. POI is based in West Nyack, New York. To learn more about the POI including how to participate in research, how to register to attend events, and how to engage with leaders on the CCM, visit www(at)p-o-i(dot)org, or email info(at)p-o-i(dot)org.
The Certified Collaborative Marketer (CCM) ™is a trademark belonging to the Promotion Optimization Institute. All other trademarks are the property of their registered owners.
###