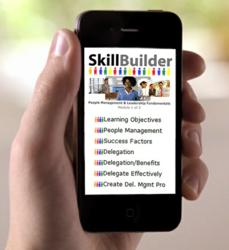 "Together, we have taken the lead in championing the evolution from corporate e-learning to m-learning."
Stockholm, Sweden and Calgary, Canada (PRWEB) December 08, 2011
DIDMO, architect of Magmito, the award-winning, cross-platform mobile application creation solution, and Success Associates (SA), specialists in providing innovative learning, employee development, training and coaching solutions for a wide range of companies, have partnered to offer a mobile extension of SA's current distance learning platform, SkillBuilder.
"Our partnership with Success Associates showcases the power of Magmito as an m-learning platform by offering organizations the opportunity to assess, train and test employees on a device they carry with them everywhere, regardless of make or model," said Angelo Biasi, DIDMO's vice president of business development, North America. "Together, we have taken the lead in championing the evolution from corporate e-learning to m-learning."
The SkillBuilder CORE Competency Learning System empowers organizations to develop the core transferable competencies required for effective job performance. This integrated learning system incorporates the cycle of assessment and learning to support the development of critical organizational competencies.
Key modules from the SkillBuilder system will be optimized for mobile devices and delivered as Magmito-generated apps. For example, training modules such as Management & Leadership, Customer Service and Resume Building will be offered that include training, video content and images as well as self-test quizzes. Employees will then connect to a mobile-optimized learning management site for more comprehensive skill testing to validate and track skill acquisition and job-specific competency development.
"With mobile Internet expected to take over desktop Internet usage by 2014, being able to provide training and development material to employees on-the-go via mobile delivery makes sense," said Joel Wilkinson, chief executive officer of Success Associates. "With Magmito, we're able to offer our clients employee development tools quickly, efficiently and cost-effectively and in the most convenient way possible today, via mobile."
DIDMO and SAI will sell and distribute m-Learning through existing channel partners and clients. The combined efforts will add value to existing distance education services and further allow accessible corporate training apps through relevant business application marketplaces.
About Success Associates
A leading provider of innovative employee development content and talent management consulting services, Success Associates is known for its unique SkillBuilder Learning System catalog of integrated e-learning and assessment content for use with corporate Learning Management Systems. The combination of assessments and modularized learning facilitates efficient and effective evaluation and development of critical job-specific competencies for organizations looking to maximize their employee development ROI. Success Associates has developed a global partner network enabling organizations of all sizes to optimize their employee development practices. Success Associates learning and assessment content products span a broad range of business, technology, and leadership development areas that are key to an organization's sustainable success. For more information visit http://www.successassociatesinc.com
About DIDMO
Creators of the world's first cross-platform mobile content creation solution, Magmito, DIDMO has empowered people and companies around the world to easily create, deliver and track rich and engaging mobile applications. Magmito's toolset has been used by companies including Turner Broadcasting, The Salvation Army, Sony Ericsson, NYU and Disney to launch mobile campaigns including product promotions, special events, customer surveys and more, delivered directly to virtually any phone on the market. DIDMO's "develop once, publish everywhere" philosophy leaves no phone unturned, from iPhone to Android, Blackberry to Java devices. A finalist for the 2011 Effective Mobile Marketing Award for "Best Mobile Charity Solution" for its work with The Salvation Army and GetJar, DIDMO is also the recipient of the 2010 Mobility Award, "Best in Mobile Marketing" for Magmito and Sweden's Gold Mobile Award for "This Year's Mobile Business Solution." DIDMO is based in Stockholm, Sweden with offices in Naples, Florida. For more information visit http://www.didmo.com or http://www.magmito.com.
###