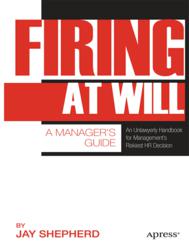 New York, NY (PRWEB) December 07, 2011
For anyone who has the responsibility of hiring and supervising employees, Apress' new book Firing at Will: A Manager's Guide gives guidance and direction to lower the risks of employee terminations, helping reduce liability, lawsuits—and a lot of stress.
Firing employees is no doubt one of the most difficult tasks managers face. Yet astonishingly, most managers have had very little formal training on how, why, and when to do it. Most people just follow their instincts, often leading to disastrous consequences.
"Firing employees is the riskiest thing you can do at work with your clothes on," says Jay Shepherd, the book's author. "That's why it's so important for managers to learn how to do it the right way and lower that risk. And it's even better if managers learn how to build a workplace where they don't have to fire as many employees."
"Firing at Will" teaches managers what they need to know, without any legalese or boring recitations of statutes and case law. Shepherd writes with plain-English common sense. The style is conversational and often irreverent, but the lessons and tips are battle-tested.
While there aren't many resources on the right way to fire employees, it's a critically important skill for managers to develop. By reading this book, managers will learn:

How to keep companies out of expensive employee lawsuits
How to make the decision to fire an employee, and how to carry it out
Who are the 30 riskiest employees to fire
How to retain dignity of employees and why it's important
Why progressive discipline and performance appraisals are ineffective
How hiring methods and decisions can help avoid firing employees later
How to have happy employees who wouldn't dream of suing you
"Firing at Will" is geared to help any kind of employee involved in firing decisions—from mid-level managers and human resources professionals to business owners and in-house counsel.
To learn more about "Firing at Will," go here.
ISBN-13: 978-1-4302-3738-9
296 Pages
Publication Date: November 23, 2011
Available eBook Formats: EPUB, MOBI, PDF
Print Book Price: $29.99
eBook Price: $20.99
About the Author
Jay Shepherd is a writer and speaker focused on fixing workplaces so that individuals are free to do their best work. For 17 years, he worked as an employment litigator and adviser helping companies stay out of trouble. Law & Politics magazine named him one of the Top 100 Lawyers in New England. He is now the CEO of Prefix, LLC, a firm that helps professionals learn how to price their work. He is also a senior fellow at the VeraSage Institute, a think tank for professional-knowledge firms. Shepherd writes two award-winning blogs: Gruntled Employees and The Client Revolution.
About Apress Media
Apress Media LLC is a technical and business publisher devoted to meeting the needs of IT professionals, software developers, programmers, and business leaders with more than 1,000 books in print and electronic formats. Apress provides high-quality, no-fluff content that helps serious technology professionals build a comprehensive pathway to career success. For more information about Apress' innovative approach to publishing, please visit http://www.apress.com.
# # #