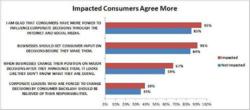 Corporate executives should be glad that Online Americans are basically forgiving and do not advocate draconian measures for bad decisions...the activist consumer is happy to seize the power of social media and the internet to make their voice heard
Atlanta, GA (PRWEB) December 08, 2011
Polaris Marketing Research Inc. and its sampling and data collection partner SSI announced today the results of its latest study of American online consumers' behavior. Recently, several major corporations have made significant business changes and then, after receiving consumer backlash through the press and social media, have changed their positions. For example, Gap discarded a new logo, Netflix determined not to split their product offerings and several banks backed down on debit card charges, among others. In an online survey of 1,000 American consumers, 40 percent indicated that they have been impacted by these types of decision reversals. Online consumers under the age of 50 are significantly more likely to be impacted than online consumers over the age of 50.
As might be expected, online consumers who have been impacted by corporate decision reversals have stronger emotions about them. As shown in the graph below, consumers who have been impacted are significantly more likely to agree or strongly agree with all of these statements, except "Corporate leaders who are forced to change decisions by consumer backlash should be relieved of their responsibilities."
"Corporate executives should be glad that Online Americans are basically forgiving and do not advocate draconian measures for bad decisions, because it is clear from this research that the activist consumer is happy to seize the power of social media and the internet to make their voice heard." said Polaris President Jan Carlson.
Polaris and SSI conducted online surveys with a representative sample of 1,000 American consumers during the week of November 21, 2011.
Founded by Jan Carlson, Polaris Marketing Research is a full-service firm that provides state-of-the-art online interactive marketing research reporting, interviewing and data collection, quantitative and qualitative research expertise and personalized project management.
Atlanta-based Polaris Marketing Research is affiliated with the Council of American Survey Research Organizations, the American Marketing Association and the Marketing Research Association.
Bringing together Survey Sampling International and Opinionology, SSI is the premier global provider of world-leading sampling, data collection and data analytic solutions for survey research. SSI reaches respondents in 72 countries via Internet, telephone, mobile/wireless and mixed access offerings. Value-add services include questionnaire design consultation, programming and hosting, data processing and real-time reporting. SSI serves more than 2,000 clients, including the top 50 research organizations. It has 30 offices serving clients around the world.
###