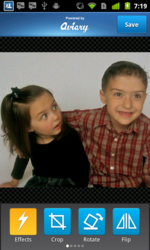 For many users, Facebook represents a modern day photo album...
Kansas City, Mo. (PRWEB) December 08, 2011
Today OneLouder announced a major update to its leading FriendCaster for Facebook app for Android, including a number of new features and enhancements available as a free upgrade in version 4.1.
FriendCaster is now the only Facebook app for Android to offer photo manipulation and filters allowing users to personalize their photos. This includes adding different effects, cropping, re-coloring, deleting redeye, whitening teeth and more. For a fun twist, the new photo features also allow users to edit any of their friend's photos and re-post to their news feed. This new feature is powered by Aviary, a leader in API-based photo manipulation and effects.
Additionally, FriendCaster includes a new photo launcher that will place an instant camera link in the app drawer. This allows users to quickly and easily shoot and edit a photo before posting to Facebook.
"For many users, Facebook represents a modern day photo album," said Evan Conway, President, OneLouder. "The addition of these innovative photo features is another great example of how FriendCaster continues to prove its position as the top Facebook app for Android."
Other FriendCaster updates include:

New photo comment bar allows user to check comments and likes on a photo much faster
New "dark" theme saves battery and gives users an alternative look to the traditional "blue" of Facebook
Improvements to user interface and overall stability
FriendCaster is the #1 ranked third-party Facebook app for Android. To download now or for more information, visit http://www.friendcasterapp.com.
About OneLouder:
OneLouder is a leading mobile app company creating a whole new breakthrough category of socially-powered apps. Drawing from social and crowd-sourced content, as well as digital news and entertainment sources, OneLouder delivers content that users can more easily manage based on their specific interests. The company has more than five million active users across its top-rated apps, including TweetCaster, FriendCaster, SportCaster, ChannelCaster, and BaconReader.
###