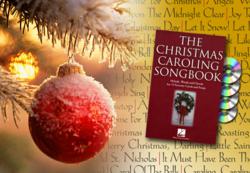 Hollywood, Calif. (PRWEB) December 08, 2011
It's the holiday season once again—a joyous time when friends and family come together to sing their favorite Christmas carols at holiday parties around the piano.
But what if you don't own a piano? WebOnlyPiano has teamed up with Hal Leonard Corporation, the world's largest publisher of music and made caroling easy and fun with the release of The Christmas Caroling Songbook, a collection of 72 classic tunes recorded by Ed Vodicka, one of Hollywood's top pianists and arrangers.
The package contains four CDs packed with seasonal favorites, including Jingle Bells, Feliz Navidad, The First Noel, Silent Night, Silver Bells and many more. Each song is stylishly arranged, with a subtle bell and chime melody line that makes it easy for kids and adults alike to join in and sing along. A sample of each song can be heard on the company's website.
In addition, the package comes with a beautifully-bound, 96-page songbook featuring the lyrics, melody line and chords of every song found on the CDs.
The Christmas Caroling Songbook and four disc set is priced at US $89.95 and can be purchased at http://www.christmascarolingsongbook.com or by calling 866-932-0009. For more information about WebOnlyPiano, please visit http://www.webonlypiano.com.
WebOnlyPiano is the world's leading producer of music for the specialty and player piano markets.
###