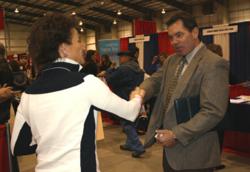 Generations has the products, we have the services and we are ready to make their business a success
San Antonio, Texas (PRWEB) December 08, 2011
Generations Federal Credit Union participated in the annual Small, Minority, Women and Veterans Business Owners Contracting Conference (SMWBE) which was held at Freeman Coliseum on Wednesday, December 7. The event was expected to draw more than 5,000 attendees.
During this half-day event, owners of small and minority owned businesses around San Antonio and Bexar County were provided with the opportunity to meet, network and develop face-to-face relationships with federal, state and local agencies as well as private companies. The event also featured a variety of workshops and vendor education that covered such topics as "Loan and Certification Programs for Start-Up and Existing Small Businesses" and "Doing Businesses with Stage Agencies, Colleges and Universities."
"This conference is a great way for Generations to network with small businesses in our community. Credit Unions are lending at a time when other financial institutions are not," said Generations Federal Credit Union Director of Business Development, Bonnie Garcia. "We want to get out there, develop that relationship and let them know that Generations is here to be their financial advocate. We have the products, we have the services and we are ready to make their business a success."
The SMWBE event, also known as the Contracting Conference, is currently in its 11th year and has grown to be the largest event of its kind in South Texas with nearly 170 exhibitors.
"Small businesses are the backbone of this country and our community, employing more than 53% of the nation's workforce. It's crucial that these businesses have access to funding during these difficult times so they can grow, expand, hire new staff and continue to serve as a vital economic component of our city."
###