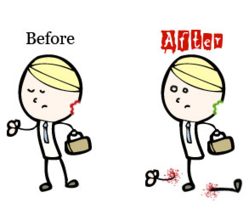 Get encouragement to 'come back to life' and pursue your educational and career goals...
Staten Island, NY (PRWEB) December 12, 2011
CollegeSurfing.com, a website that connects prospective students with colleges, career schools, and vocational training opportunities, takes on the pop culture zombie craze with its latest article "The 7 Stages of Zombification and Your Career."
"Sprinkling a bit of pop culture is a fun way to provide advice to our audience of career changers and back-to-school adults," says Gina LaGuardia, VP of content and social media at The CollegeBound Network. "At the heart of the article -- which compares the stages of a rough career patch to transforming into a zombie -- readers are not only entertained, but come away with encouragement to 'come back to life' and pursue their educational and career goals."
The article takes readers through the various stage of zombie life, from the initial zombie bite all the way through to reanimation. And along the way, readers will recognize that the metaphor addresses the desire to return to school and launch a new career. The feature also springboards readers to a $2,500 contest on MyEducation.com, a sister site to CollegeSurfing.com. The contest requires entrants to submit a creative, short video (60 seconds or less) describing how an education can help make their career dreams come true. "It is our hope that readers will be compelled to share how they wish to "Come Alive with Education" and then act on their ambitions," says LaGuardia.
Like each of the 10+ affiliated sites within The CollegeBound Network, CollegeSurfing.com offers robust content, resources, and a thriving social media community on Facebook and Twitter, all aimed at demystifying the process of returning to school for nontraditional students.
About The CollegeBound Network
Since 1987, The CollegeBound Network (CBN) has worked with America's leading colleges, universities, and career schools in connecting learners with educational opportunities. More than 3 million surfers utilize CBN's sites, including CollegeBound.net, CollegeSurfing.com, MyGlobalEducation.com, MyEducation.com, SpaBeautySchools.com, and others. CBN specializes in recruitment lead generation solutions for 1,000+ educational institutions and 3,500 campuses using 15+ websites, robust content, a dedicated Student Services division, various social media platforms, daily blogs, etc.
###