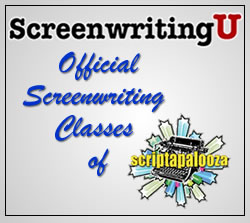 We are proud to have Scriptapalooza designate us as their most trusted source for screenwriting classes.
Los Angeles, CA (PRWEB) December 08, 2011
ScreenwritingU, an award-winning, Los Angeles-based company that provides the highest quality online screenwriting classes, is pleased to announce its designation as "Official Screenwriting Classes" for Scriptapalooza, Inc., one of the most respected competitions for screenwriting and television.
Hal Croasmun, president of ScreenwritingU, says, "We are proud to have Scriptapalooza designate us as their most trusted source for screenwriting classes and recommend us to those who want to write a screenplay. That means a lot. We are also recommending Scriptapalooza's Coverage Service to our professional writing group, the ProSeries Alumni, to ensure their scripts are up to industry standards before sending them to contests, agents, and production companies."
Mark Androshko, president of Scriptapalooza, says, "This is the first time we have designated a company as our "Official Screenwriting Classes." We chose ScreenwritingU because of its high quality, professional, practical courses that focus on creating marketable screenplays. The combination of Hal Croasmun's innovate online screenwriting classes, Scriptapalooza's professional script analysis, and the impact of our screenwriting and television competitions will offer writers even greater chances for breakthroughs into the film and television industries."
Croasmun is distinguishing ScreenwritingU for its award-winning online screenwriting classes and as a career-builder that screenwriters can find with no other company. He envisions Scriptapalooza as the first of many companies and sites that will name ScreenwritingU as their official classes. In kind, ScreenwritingU has named Scriptapalooza's professional script analysis as its "Official Coverage Service." Info on their professional script analysis is available at ScriptCoverage.com.
At ScreenwritingU, over 130 ProSeries Alumni screenwriters have either sold or optioned their scripts, landed paid writing assignments from producers, and/or secured agents or managers. See more information on ScreenwritingU ProSeries Screenwriting Class.
About Scriptapalooza
Established in 1998, Scriptapalooza, Inc. hosts two major contests in screenwriting and television writing. Its successful contests are featured in movie business and general interest magazines such as Entertainment Weekly, Vanity Fair, Daily Variety, Business Week, and Hollywood Reporter. Scriptapalooza Screenwriting Competition offers a grand prize of $10,000.
The Scriptapalooza Semi-Annual Television Writing Competition winners have meetings and phone calls from production companies.
The company's top priority is to provide writers with the best opportunities for advancement in the industry. Unlike other competitions, Scriptapalooza selects, as contest readers, over 90 decision-makers who have the power to set up a studio meeting for, option, or buy a script. For a year after a script is chosen as a semifinalist, finalist, or winner, Scriptapalooza promotes, pitches, and pushes it toward production. The company also offers feedback to strengthen an existing script through The Scriptapalooza Coverage Service. See more information on Scriptapalooza services.
About ScreenwritingU
ScreenwritingU is a Los Angeles-based company with clients worldwide who are building careers as screenwriters. The company provides high quality screenwriting classes, teleconferences, newsletters, and articles; special events for meeting Hollywood producers, agents, and managers; screenwriting contests and opportunities for landing jobs; and access to exclusive offers from top script marketing sites, critique services, and coaches.
With ScreenwritingU's newsletter subscribers, clients, and social networking sites, the company keeps in regular contact with 100,000 screenwriters. ScreenwritingU's vision is to offer the most organized and effective track from first draft to entry into the movie industry, including its award-winning classes, and alliances with highly regarded screenwriting teachers, software experts, and access to the industry.
Script Magazine named ScreenwritingU number one in its list of Top 10 Screenwriting Courses. TomCruise.com says, "The professional advice and training offered by ScreenwritingU – both as an online news source for screenwriters and a professional school with online classes – gives aspiring writers the opportunity to learn more about their craft regardless of where they live in the world."
###