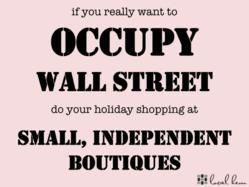 Local Hem offers up five reasons why shopping boutiques over big department stores will leave you with the perfect gifts and extra holiday cheer to spare.
Cambridge, MA (PRWEB) December 08, 2011
Local Hem, the online boutique shopping platform, is encouraging people to "shop small" this holiday season by patronizing local boutiques, either in-person or the online boutiques on Local Hem. With the hustle of the upcoming weeks, Local Hem offers up five reasons why shopping boutiques over big department stores will leave you with the perfect gifts and extra holiday cheer to spare. Here are their reasons:
1) Crowd Avoidance: Anyone who has queued up and rubbed elbows with dozens of frantic department store shoppers knows the importance of being able to shop in peace, check out quickly and get on with your day trauma-free. Boutiques offer a tranquil respite from the jungle of shopping malls. When you shop boutiques you should expect to be able to shop at your own leisurely pace and check out quickly once you've made your decision.
2) Exceptional Customer Service: When you ask a salesperson about the make and manufacture of an item you should detect some enthusiasm and knowledge of the brand/item that goes beyond "Not sure, I think it's made in China." Boutique owners and staff are intimately familiar with the designers and products they carry and are happy to take the time to share their merchandise's stories and features with you. Boutiques will often go the extra mile to ensure you walk out of the shop smiling: when you are at check out inquire about services such as complimentary gift wrap.
3) The Excitement Factor: As you would expect, small businesses order in small quantities, meaning that their inventory is constantly changing with new items coming and going each week, meaning you never know exactly what goodies you'll find. A stark contrast to the 9 month migration everyone has witnessed at 'Chain Store XYZ' of that argyle cardigan from the window display, to the back shelf, to the dreaded clearance bin abyss, only to reappear 3 months later in the window display (in a slightly darker shade of green this year, of course).
4) The "Where Did You Get That" Phenomenon: Boutiques and other small businesses, by their nature, can carry the products and brands that chain stores can't (or won't) due to corporate politics, scale, margin requirements, etc. This means that by shopping small not only are you curating a unique collection of goods that will cement your reputation as the 'coolest person ever', you are also making it possible for emerging designers/stationers/bakers/ jewelry makers/etc. to continue to do what they do best.
5) Warm, Fuzzy Feeling. There is no way to explain this one, shop small and you'll know it when you feel it.
Finally, Local Hem is giving online shoppers yet another reason to support small businesses this holiday season: free shipping. All of Local Hem's online boutiques are offering free shipping deals, with many of the boutiques offering complimentary gift-wrap as well. While supporting these small businesses you'll find something for every taste and budget on your holiday gift list from designers like Elizabeth and James, EMU Australia, Freebird by Steven, 80%20, Prairie Underground, Plenty By Tracy Reese, Velvet, Alice + Olivia, Caressa, Three Dots and more.
ABOUT LOCAL HEM
Local Hem is an online boutique shopping platform allowing visitors from anywhere in the world to shop a selection of the best independent, local boutiques online. Visitors to the site can discover and shop boutiques by location, category, designer or specific trends. Each online boutique is handpicked for Local Hem based on its commitment to offering unique, high-quality merchandise and customer service, resulting in a carefully curated selection of the best local boutiques.
For more on Local Hem, visit their Facebook Fan Page or follow them on Twitter @localhem.
###