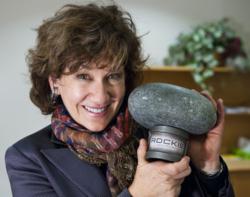 Salt Lake City, Ut (PRWEB) December 08, 2011
The American Advertising Federation of Utah (AAF-Utah) presented Salt Lake Community College Assistant Vice President of Institutional Marketing & Communications Alison McFarlane with its inaugural 2011 'Rockie' Award in a December 7 ceremony. Alison, one of three finalists for the award in the category of Marketing, was one of 10 award recipients recognizing Utah's outstanding advertising and marketing professionals. Overall, the contest garnered more than 3,500 votes.
About the college: Salt Lake Community College is an accredited, student-focused, urban college meeting the diverse needs of the Salt Lake community. Educating and training more than 62,000 people each year, the college is the largest institution of higher education in Utah. The college has 13 sites, an eCampus, and nearly 1,000 continuing education sites located throughout the Salt Lake valley. Courses are offered during both traditional and accelerated semesters, during the daytime, evenings, and weekends. Personal attention from an excellent faculty is paramount at the college, which maintains a student-to-teacher ratio of less than 20 to 1.
About the AAF: Established in 1909, AAF-Utah is an organization of advertising and marketing professionals working to advance the industry in Utah. It provides networking and educational opportunities for members and communicates the benefits and overall effectiveness of advertising to companies and governmental organizations. The mission of the AAF-Utah is to encourage camaraderie, build knowledge and facilitate open industry communication. It's also to socialize and have fun with others in the advertising industry.
###