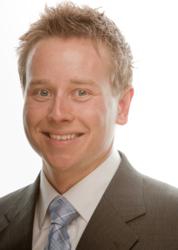 Being a part of a global company will allow me to bring the insights and best practices from around the world to CanSIA, while my business relationships will allow me to stay closely connected with local issues.
Toronto, Ontario (PRWEB) December 07, 2011
Conergy Canada's President, Jared Donald will begin his two-year term as CanSIA board member on December 6, 2011. Mr. Donald will bring both his solar business and technical experience as a Professional Engineer to his position as CanSIA board member. As current President of Conergy Canada, Mr. Donald has been with Conergy since its entrance into Canada in 2007 and is responsible for the development and execution of Conergy's strategy in its sales, EPC and manufacturing businesses. This broad market approach in all aspects of the value chain, along with his technical background will provide him the visibility of multiple viewpoints regarding issues that affect the Canadian solar industry.
"The solar industry will be facing many changes in the upcoming years and I am looking forward to positively affecting the outcomes and representing Canadian solar professionals. Being a part of a global company will allow me to bring the insights and best practices from around the world to CanSIA, while my business relationships will allow me to stay closely connected with local issues," stated Jared Donald, President of Conergy Canada. Mr. Donald will continue in his position as the President of Conergy Canada.
The Canadian Solar Industries Association is a national trade association that represents approximately 650 solar energy companies throughout Canada. Since 1992, CanSIA has worked to develop a strong, efficient, ethical and professional Canadian solar energy industry with capacity to provide innovative solar energy solutions and to play a major role in the global transition to a sustainable, clean-energy future. The objectives of CanSIA include, developing and implementing programs and activities directed at enhancing and accelerating the widespread use of solar energy in Canada; ensuring that governments in Canada have a good understanding of the contribution a viable solar equipment industrial base can make to Canada's industrial and social development; and carrying on and assist in research on issues that impact the solar industry and its support from various stakeholders.
About Conergy North America
As a full system manufacturer, Conergy Group delivers solar energy systems from a single source and offers all services under one roof.
Through deep-rooted operations in 18 countries, Conergy System Sales sells premium Conergy products to customers in nearly 40 countries worldwide. Conergy supports homeowners, installers, wholesalers and investors in their efforts to "go solar.". With local sales activities on five continents, Conergy has close relationships with all its customers. Listed on the Frankfurt stock exchange, Conergy employs more than 1,700 people worldwide. Since Conergy's founding in 1998, it has produced and sold more than 1.5 GW of clean solar power, and developed over 500 MW of solar parks.
Conergy's Solar Large Projects Group manages the planning, financing, installation, monitoring, and ongoing operations and maintenance for turn-key solar projects across the globe. Conergy;s broad project expertise ensures maximum performance from every Conergy power plant..
Through its acquisition of well-established local companies, Conergy began operating as a distributor and project developer in North America in 2005 and currently has five offices, four warehouses and three production sites in the region. In North America, Conergy is both a manufacturer and wholesaler. Conergy manufacturers mounting systems in Sacramento, CA. In Ontario, Canada Conergy produces modules and mounting systems that meet local content requirements for the Provincial FIT. Conergy offers innovative products and tailored services to its North American network of system integrators and project developers. Through these activities, Conergy maintains expert knowledge about local market conditions and requirements.
Please contact us if you have any questions or requests.
###