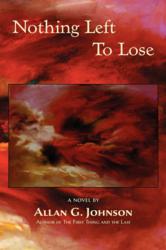 "That is a testament to the skill of Johnson, who has crafted a beautifully written novel filled with believable characters who take believable but brave actions." David Willson, The VVA Veteran, the national magazine of Vietnam Veterans of America.
San Antonio, Texas (PRWEB) December 08, 2011
In Allan G. Johnson's new book, "Nothing Left To Lose" set in 1968 at the height of the Vietnam War the crisis facing the Carson family – William, Ann, and their sons, Joshua and Andrew – is much like the challenges facing the U.S. soldiers returning from Iraq and Afghanistan today.
William Carson, a combat veteran of World War II, has for 23 years been plagued by nightmares whose content he has not revealed to anyone, claiming he does not remember. Joshua is a Marine serving in Vietnam while Andrew, the top ROTC cadet in his senior class, is set to follow in the footsteps of both his brother and his father. But when Joshua is reported missing in combat, the family is thrown into crisis as the web of secrets and denial begins to unravel. Joshua's disappearance opens an old wound in his father's soul as Ann's anguish at the possibility of losing her sons pushes her to crack through decades of denial and guilt, and Andrew embarks on a life-changing journey of self-discovery in love, politics, loyalty, and war.
"Nothing Left To Lose" is also a story about the struggle of every parent to protect their children even as they must give them up to the world, and the nightmare fear of outliving them.
'…Johnson provides fascinating insights into issues such as post-traumatic stress disorder and grief. VERDICT: This novel should appeal to those who like their families, as Tolstoy wrote in Anna Karenina, unhappy in their own way. Book clubs will find plenty to discuss with all the issues raised.' Dan Forrest, Library Journal
Allan G. Johnson has worked on issues of gender, race, and social justice since receiving his PhD in sociology forty years ago. His nonfiction books include The Gender Knot and Privilege, Power and Difference. His work has been translated into several languages. His first novel, "The First Thing and The Last", a story of redemption in the aftermath of domestic violence, was published in 2010 by Plain View Press. "Nothing Left To Lose" was published in October, 2011 by Plain View Press.
On Amazon at http://www.amazon.com/Nothing-Left-Lose-Allan-Johnson/dp/1935514954/ref=sr_1_1?ie=UTF8&qid=1323292788&sr=8-1
On B & N at http://www.barnesandnoble.com/w/nothing-left-to-lose-allan-g-johnson/1106524629?ean=9781935514947&itm=1&usri=nothing+left+to+lose+by+allan+g.+johnson
###