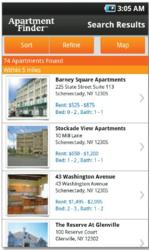 "Consumers use every avenue available to search for information and searching for a new place to live generally involves a lot of research. We wanted to make that as easy as possible."
LAWRENCEVILLE, GA (PRWEB) December 13, 2011
Finding a new place to live just became easier for consumers - who can now browse apartment on their smartphones. Apartment Finder/ApartmentFinder.com recently launched an additional mobile tool - a free Android App to make looking through photos, maps, and more information a better experience for apartment shoppers.
Consumers may download the app for free from the Android Marketplace.
According to Nielson Research, more people will own smart phones than personal computers or laptops as soon as 2013 and comScore Research indicates that 73% of local searches (such as looking for a home) are currently performed through mobile web browsers.
"Consumers use every vehicle available to them to research products and services these days," says Marcia Bollinger, President of Apartment Finder. "We want to make sure they find the information they are looking for as easily as possible in order to select their new apartment."
To reach more consumers at a time and place when they are actively engaged in apartment searching, Apartment Finder, the fastest-growing integrated media platform in the multi-family industry, launched a mobile version of its website in 2011 and an iPhone app in 2010.
"Based on the most recent Nielsen data, Android's share of the smartphone market in the U.S. grew to 43%, and Apple's share remained 28%. The launch of our Apartment Finder Android app allows us to reach a much larger mobile audience… with the goal of helping more people find a place to live and generating more leads for our customers," says David Quinlan, Sr. Director, Product and Marketing.
The new app includes helpful features such as
Search by GPS
Search by city, state, or zip
Advanced search
Recent search history
Search results in map or list views
Apartment details such as photos, floor plans, price, description, amenities, and contact information in user-friendly screen displays
Save to Favorites, Save Notes, Driving Directions, Map Location and the ability to share with friends or family
Widget for Android Home Screen
View in Landscape or Portrait Mode
Android Operating System 2.1+
Apartment Finder is the anchor of the multi-family division of Network Communications,Inc., the largest publisher of print and online housing information in North America. Apartment Finder's print, online, social and mobile products provide the latest information about apartment rentals to millions of consumers around the country, while offering a comprehensive and targeted integrated advertising solution for multi-housing professionals. The fastest-growing media platform in the multi-family industry, Apartment Finder publishes local magazines in 116 markets across the U.S. and operates http://www.ApartmentFinder.com, the #1 consumer-preferred site featuring state-of-the-art searching and mapping features for apartment renters.
About Network Communications, Inc.
Network Communications, Inc. is a leading local media company providing lead generation, advertising and Internet marketing services to the housing industry. The Company's leading brands are Apartment Finder, The Real Estate Book, Digital Sherpa, Unique Homes, New England Home and Atlanta Homes & Lifestyles. NCI has market representation in more than 500 local markets around the United States. The Company's strategy focuses on providing high-quality and measurable marketing solutions to local clients by leveraging its proprietary prospect-focused distribution and content management infrastructure. NCI distributes more than 9.4 million local print catalogs of apartments for rent and homes for sale every month through more than 300,000 distribution points; NCI's websites are leading Internet destinations for consumers looking for homes to rent or buy, with an average of 2.0 million unique users every month; and it provides Internet marketing services using social media tools to its customers.
MEDIA CONTACT:
Rebecca Chandler
Network Communications, Inc.
770-962-7220 ext. 24672
rchandler(at)nci(dot)com
###