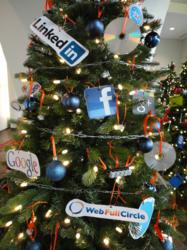 Charlotte, NC (PRWEB) December 08, 2011
Website Design and Internet Marketing Company, Web Full Circle is a tree sponsor for the 2011 Festival of Trees held by The Arc of Mecklenburg County. This organization serves and supports children and adults with developmental disabilities.
The Arc of Mecklenburg County is a network that connects people and families with development disabilities to community resources. The organization creates awareness in the community about development disabilities, while also providing programs to prepare those with disabilities for greater independence and social understanding. Those with disabilities are empowered through their programs and services, while the community and legislators are educated on their needs.
Web Full Circle sponsored a tree for the event and gave it an industry related technology theme. Technologies from the past and present are represented on the tree as everything from floppy disks, to CD's, keyboard keys and popular search engine and social media icons are represented. The Web Full Circle team participated by crafting ornaments and decorating the tree, and turning to social media to promote the cause.
Web Full Circle will be attending the Festival of Trees Prevue Party on December 9th to support the cause and see the lighting of the sponsored trees. The event will be held at the Harvey B. Gantt Center and will include live music, and a silent action.
For more information about Web Full Circle, please visit http://www.webfullcircle.com or call (980) 322-0518.
About Web Full Circle
Web Full Circle is Website Design and Internet Marketing Company that specializes in developing websites that generate leads for companies. Their team of Internet consultants and SEO experts develop solutions that are customized around companies' online marketing goals. Web Full Circle is located at 207 Regency Executive Park Dr., Suite #150, Charlotte, NC 28217.
About The Arc of Mecklenburg County
The Arc of Mecklenburg County creates opportunities within their community for people with cognitive impairments and their families to experience more meaningful and satisfying lives. For more information about The Arc and the Festival of Trees event please visit: arcmeck.org
###