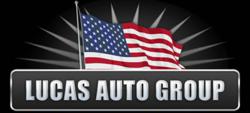 Ford F-150 customers are very discerning, so we are pleased they rate our new EcoBoost technology as highly as V-8 engines that some thought truck customers would never give up.
Burlington, NJ (PRWEB) December 08, 2011
Ford customers are giving the F-150 with fuel-saving technologies high marks for quality. The F-150's fuel-saving EcoBoost engine and electric power assist steering have earned it high ratings from customers in Ford's quality survey. The F-150 was also the highest-ranked full-size pickup this year in J.D. Power and Associates' Initial Quality Study, and Automotive Performance, Execution, and Layout Study. And it appears the new EcoBoost technology is aiding a consumer shift toward smaller engines. Ford sold over 13,000 F-150 pickups equipped with EcoBoost engines in both September and October, leading to a 20% retail sales rise in November. Lucas Ford in Burlington, NJ is seeing the benefits from this latest technology with increased sales, and encourages anyone looking for a new Ford in Burlington or a used Ford in Burlington to visit their dealership to preview their available stock on hand.
Automotive consumers have many choices when it comes to pickup trucks, but none have the stellar reputation and proven track record of the F-150 series. This is the all-time, best-selling truck series in history, bar none. Consumers looking to purchase a new truck in Burlington can see for themselves what all the fuss is about by test driving the new Ford Raptor. The Raptor is currently being offered in three Eco Boost engine sizes to choose from with standard and optional features available that are impressive. The 3.7L V6 302hp is rated Best in Class for fuel economy with an EPA-estimated 17/city mpg and 23/hwy mpg and is E85 Flex fuel-capable. It's also available in a 5.0L V8 360hp engine with 380 lbs of torque and a 6.2L V8 411hp engine with 424 lbs of torque.
"Ford F-150 customers are very discerning, so we are pleased they rate our new EcoBoost technology as highly as V-8 engines that some thought truck customers would never give up," said Doug Scott, group marketing manager, F-Series trucks. "We believe this is a good sign, as we plan to roll out this innovative, powerful and fuel-saving technology to most of our lineup during the next few years."
###