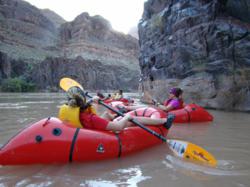 This trip is the for backpacker looking for something extra - a chance to explore secluded and more challenging terrain in Grand Canyon and get some Colorado River time.
Grand Canyon, AZ (PRWEB) December 08, 2011
Hiking and backpacking in Grand Canyon National Park is a milestone for most outdoor enthusiasts; with Rim to Rim being one of the most popular treks in the park. The only way to hike from one rim to the other is via the North Kaibab to Bright Angel or South Kaibab trails, crossing the Colorado River over the Black or Silver Bridge. But this was not historically the only rim to rim route, and now, hikers can be guided along this little used route with Just Roughin' It Adventure Company.
The trip is a Rim to Rim packrafting trip via the remote North and South Bass trails, which were the trails used as the first Rim to Rim route in Grand Canyon – long before the most commonly used route today. The original route, created by William Wallace Bass was open to tourists in the late 1800s, allowing travelers access across the river via a cable car rigged up to the rocks on either side of the river. Even President Theodore Roosevelt explored the North Bass area during one of his many visits to Grand Canyon. Due to various factors, such as weather, road conditions and climate, the Rim to Rim Packrafting trip is only available late September through October of every year.
Arizona-based Just Roughin' It Adventure Company is the only authorized guide service in Grand Canyon offering commercial packrafting trips. "This was a process 18 months in the making to get the park's approval to offer packrafting trips, finding the right rafts and scouting the trails we would be hiking and the areas of the Colorado River we would be floating, but is was well worth it. Our inaugural trip concluded this Fall with great success" says Ray Hendricks, co-owner of Just Roughin' It.
Guests carry all their backpacking gear provided by Just Roughin' It, as well as a packraft that weighs about 7 lbs, and are led by their guide through some of the most secluded and less trodden canyon trails. Once at the river, hikers inflate their rafts and cross or float a couple miles on the Colorado River – depending on the itinerary – to get to the next best place to hike or camp.
More routes are in the making to allow a longer packrafting season and hikers access to the lesser known areas of the inner canyon.
Just Roughin' It Adventure Company is an Arizona-based, full-service hiking tour company that specializes in Grand Canyon hiking tours and backcountry hikes to other destinations; including Yosemite & Olympic National Parks, Superstition Mountains, and Paria Canyon. The company was founded in 2007 by husband and wife Ray & Debbie Hendricks. Just Roughin' It provides transportation to all Arizona destinations, backpacking gear, food prepared by your guide and a guide with medical training & extensive backcountry experience. For more information or to book a trip, call 877-399-2477 or visit http://www.justroughinit.com.
# # #