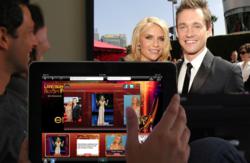 Los Angeles, CA (PRWEB) December 08, 2011
TVplus announced that the company has produced a library of more than 10,000 hours of synchronous, second screen content since July. Perhaps more noteworthy, in a recent data sample taken from the TVplus user base, the Los Angeles based technology company recorded engagement numbers showing that users of the product are engaging for an average of ten hours per month.
Along with a proprietary audio technology that allows a viewer to sync their second screen device to a program, TVplus has developed a content management platform known as PET™, which allows the company to produce and publish content 'spots' in real-time across television programing. The term 'spots' refers to unique pieces of related content delivered synchronously on a second screen during the broadcast.
Viewers can engage with such assets as actor and cast facts, photo galleries, song lyrics, videos, behind the scenes news, trivia and polls, along with a curated Twitter stream that features the best tweets time-stamped to the moment in the show. All content is enabled for Live or recorded programming.
The TVplus library is available for partners to integrate into their own digital properties, allowing rapid deployment of synchronous, companion content.
Ajay Shah, CEO and co-founder of TVplus said, "Our vision has always held that the key to success with interactive television is the ability to create compelling and engaging content experiences at scale. We've designed our technology to address this challenge, and we're excited to observe such positive returns with our user engagement."
Since its release over the summer, TVplus has engaged with activations for such high-profile 'LIVE' events as the 63rd Primetime Emmy Award, and is currently partnering with The X Factor to power the THE XTRA FACTOR™ application for both the Verizon Android Tablet and iPad.
This year, TVplus has received industry awards for 'Best New Idea' at both the CableLabs® 2011 Winter Conference, as well as the Social TV Summit hosted in New York in November.
The TVplus App provides interactive content for select programming in primetime, and is currently covering nine of the largest networks on television. The company will be expanding their service across multiple platforms in the near future, including PC/Mac, iOS and Android devices.
About TVplus -
TVplus is an interactive technology company based in Orange, CA. Co-founded by Ajay Shah and Randy Shiozaki, the TVplus platform uses a proprietary audio technology to identify and sync a viewer's Second Screen device to the exact moment within the show. TVplus then delivers relevant contextual and social content related to each scene of the program through our content management product.
TVplus offers the ability to capitalize on the viewer need for more content by integrating relevance, choice, and social connectivity to a television viewing experience. The platform has been created to transform television into a relevant social engagement and companion experience, providing a valuable viewer connection opportunity for both content providers and brand advertisers.
For more information about TVplus, visit http://www.tvplus.com and follow us on Twitter: (@TvplusApp). Visual assets available at http://www.tvplus.com/presskit
TVplus is a product of Spot411 Technologies.
TVplus
Matt Duffy
714.771.2050
press(at)tvplus(dot)com
# # #