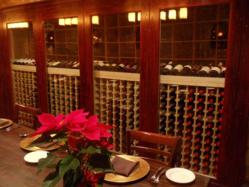 "Everyone is really impressed, every December party guest in our wine room will be able to enjoy your great product."
Olympia, WA (PRWEB) December 09, 2011
The most recent debut at Luciana's in Dana Point, CA is just one of the many restaurants that have used WineRackStore's custom designs this year alone.
Luciana's Italian Restaurant has been a California Coast staple for over 25 years and was long over due for a functional wine storage solution. "Everyone is really impressed, there are no more boxes of wine on the floor," said Monika Naillon, who oversaw the wine rack design and build for Luciana's. "Now every December party guest in our wine room will be able to enjoy your great product."
Wine displays aren't just making a splash at French and Italian restaurants either. The recently opened Tashan, an upscale restaurant in Philadelphia, serves up Indian cuisine. They purchased their wine racks from the WineRackStore and had them stained in Ebony to match the modern style décor. The architect who worked on the design of the restaurant was so pleased with the quality of the racks he put in an order for a second specialty cellar to use for his next restaurant project.
"We were very happy with the outcome of [Tashan]," said Wilfredo Rodriguez, the Senior Designer on both projects, "We are planning on using your product in designing another restaurant in New York."
The WineRackStore's designs have long been featured in a wide variety of establishments. They have provided customized solutions for everything from neighborhood staples looking to revamp their current wine displays to the latest dining craze in need of a custom cellar before their grand opening.
"They always look great, no matter where they are used," said Michael Kitson, Owner of WineRackStore.com, "Our racks are very versatile."
WineRackStore.com sells quality pre-made and custom built wine racks, cellars and wine accessories since 1995. WineRackStore.com is A+ rated from the Better Business Bureau. All products are locally crafted in Olympia, WA and are shipped free anywhere in the U.S.A.
###