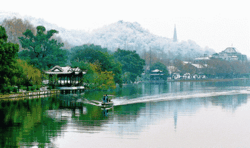 It truly is a great bargain for families interested in summer programs in China.
Hangzhou, China (PRWEB) December 09, 2011
San Jose, CA--Sino Language Gateway(SLG) announced that it will launch a new Mandarin summer camp, "Journey of Chinese Culture," in 2012 that is being endorsed and partially sponsored by the Hangzhou Education Bureau. The program will offer an exciting and edifying summer camp based in Hangzhou, China. With the support and financial backing of the Hangzhou Education Bureau, the new program will enjoy the additional resources to guarantee educational success for the children.
Standing on a solid foundation of fruitfully directing cultural and educational exchange programs for nine years, SLG had decided to expand its services to Hangzhou to grant a wider range of experiences and study conditions for young children. The founding of SLG was based on the motivation to provide children and teens younger than 18 the option to study Chinese language in China when such programs were limited a few years ago, so broadening its reach to a new city like Hangzhou is just another avenue for SLG to stay true to its mission of producing more opportunities for children.
"Hangzhou is a very special city and is known by almost every Chinese mainly because of the beautiful scenery," said SLG Marketing Director, Anna Yu. "It has been one of the most renowned and prosperous cities of China for much of the last thousand years. Plus, it's only sixty miles away from Shanghai, a major stop for most foreign visitors. Therefore, a camp in Hangzhou makes travel to China more complete and convenient."
SLG's persistence and constant drive for improvement had built a positive reputation for the organization that attracted the interest of a Hangzhou government agency—the Hangzhou Publishing Organization. The agency got in touch with SLG late 2010 during a visit to the U.S. to collaborate on bringing the SLG presence to Hangzhou. Due to government funding and support, the new 2012 summer program will feature both educational and financial advantages.
Free programs offered by the central government of China have many restrictions, such as participation being limited to non-Chinese descendants or only Chinese descendants. However, SLG's Hangzhou program is open to worldwide participants and offers even more activities than even its own original summer programs in Beijing, which include cultural activities, culture-enhancing tours, and interaction with locals on top of group and 1-on-1 Mandarin studies. As part of the Hangzhou program, two cultural-enhancing tours will be included in each of the 4 sessions so that participants can choose a tour depending on their preference in order to cater to students who may have visited and toured certain sites previously.
Additionally, due to government funding, the program is more than $1,000 cheaper than the majority, if not all, of China summer programs offered in the U.S. "It truly is a great bargain for families interested in summer programs in China," said Yu. "It combines the best price with the best service ever."
SLG organizers are excited with making detailed plans and arrangements to host the new program and are currently accepting applications from students who desire adventure, Chinese language improvement and cultural learning.
About Sino Language Gateway
Sino Language Gateway (SLG) was established by American and Chinese professionals in 2003 to promote cultural and educational exchange for young people between China and the rest of the world. SLG dedicates to help the young generation become bilingual and competitive in an ever globalized world. Its Chinese language & culture immersion summer camp has attracted thousands of students from more than 20 countries around the world. Focusing on offering top notch education and a fun experience, the summer camp helps worldwide teenagers quickly integrate into Chinese culture, learn the Chinese language and put to practice the skills they wish to or have already acquired in one of the world's largest economy.
###