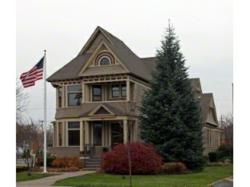 From financial wisdom, better stewardship.
Plymouth, MI (PRWEB) December 12, 2011
The majestic old edifice on 218 S Main St in downtown Plymouth, MI, built in 1893, has housed families and businesses ever since. The new owner, Wayne B. Titus III, CPA/PFS, an established financial analyst, planner and fiduciary, moved from his Deer Street office to be closer to downtown and to give his clients greater access and opportunity to visit. Welcome, Mr. Titus.
After settling in, Mr. Titus conducted a quiet flag raising ceremony on Veterans Day to mark the official transition to the new building for the firm and the other tenants. A dozen people participated, including a new U.S. Citizen who had the honor to be one of the color guards. Aldi said, "How we honor the flag here is an emotional experience. It was most emotional at the new citizen swearing in in June. At a Red Wings game the national song made it more so. At our own flag ceremony I learned how a flag is retired. It's great." Asked what being a new citizen means to him, Aldi exclaimed, "I'll get to vote for the first time! And I don't have to tell anyone who I vote for!" Also attending was the Kennedy Nemier Agency staff, with loved ones serving in Afghanistan and Iraq. To honor everyone who serves our flag, Mr. Titus read the Joanna Fuchs poem "Honor Our Military." The reading was a most solemn moment.
Also participating: Color Bearer – Roger A. Haslick, attorney, Vietnam Veteran and Rotarian with 30 years perfect attendance; Color Guard – Jason Russell, partner in Retirement Income Security Solutions; Color Guard – Aldi Arkaxhiu
AMDG Financial will be collecting old flags to formally retire in a flag burning ceremony in the future. If anyone has an old flag to dispose of properly, s/he may drop it off any time.
Mr. Titus is an Accredited Investment Fiduciary Analyst™ and his firm, AMDG Financial, is a fee-only family wealth advisor helping families make their life transitions successful on purpose. Mr. Titus spent several years as an in-house CPA with a large accounting firm before moving out on his own 10 years ago. True to his teachings, Mr. Titus has safely expanded and grown his practice over the years, always keeping it manageably professional. Now he joins the downtown core as the next step in that planned expansion through carefully managed growth.
You can view a 3-minute depiction of the AMDG Financial consulting process at http://amdgservices.com/1Aprocess.html
###
###