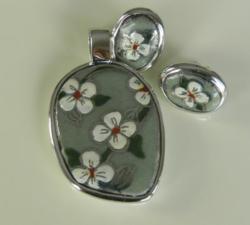 Vail, CO (PRWEB) December 07, 2011
Tana Stewart is a Vail resident and Master Japanese potter and is regarded a "grandchild apprentice of National Living Treasure Shoji Hamada". Tana's one-of-a-kind pendants and earrings will be on display at the Alpine Tavern now through the end of December.
Designs are painted in cobalt under glaze, china paint, and gold or silver, or a combination of techniques often fired 5 or 6 times until the desired depth of color is achieved. After the final kiln firing, Tana takes her pieces to a silversmith who then individually creates a setting in 92.5% pure sterling silver. (92.5% is the highest grade of sterling rated for use in jewelry).
Pendants are priced from $145 to $175, earrings $98.Tana's pendants and matching earrings are on display at the Alpine Tavern, located in the Vail Racquet Club.
Just 4 miles away from Vail Village, the Alpine Tavern and the Vail Racquet Club are East Vail's only resort and are located at 4695 Racquet Club Drive in East Vail.
Tana Stewart is available for interviews. Please contact Tana directly at (303) 877-0828.
###