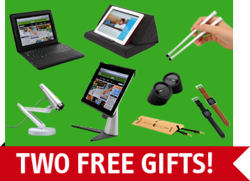 Sunnyvale, CA (PRWEB) December 08, 2011
In the lead-up to the holiday season, IPEVO, Inc., a designer and maker of technology products for education and business, has announced a storewide promotion featuring up to two free gifts with qualifying orders. Promotional items are purchased online through the IPEVO Store (http://www.ipevo.com).
The "Two Free Gifts" promotion runs from now through Tuesday, December 20th. During this window, any customers who purchase qualifying products through IPEVO.com are eligible to receive up to two free gifts from the "Clearance" section of the online store. Qualifying products include any items listed in the "Products" tab of IPEVO.com, such as the Ziggi USB Document Camera and the Perch stand for iPad, to name two.
The only exception are the Perch family of iPad stands, Perch products do NOT count toward the total order cost for the purposes of the promotion. We cannot offer free shipping for Perch products.
For orders of $50 or greater, the entire order ships free, including the free Clearance items. For orders less than $50, customers can still take advantage of up to two free Clearance items, but the order is charged with standard shipping costs for all of the items.
To participate in the promotion, visitors need simply visit the IPEVO Store at http://www.ipevo.com, choose one or more products listed under the Products tab, and then add desired items from the Clearance tab. Item prices, including processing and shipping, will be calculated at checkout according to the promotional rules.
Complete terms and conditions for the promotion may be found at http://www.ipevo.com/twofreegifts.
About IPEVO
IPEVO designs and sells innovative products to enrich today's connected lifestyle. We recognize the immense potential of new technologies to help people create, teach, learn, and inspire. From classroom to living room to conference room, IPEVO is dedicated to making technology more available, accessible, and affordable for all.
For more information, visit http://www.ipevo.com.
###