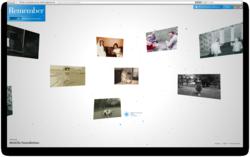 New York, NY (PRWEB) December 08, 2011
Today MetLife Foundation launched Remember Me, an interactive experience featuring real stories from people lost to Alzheimer's disease. The goal of the site is to raise $1 million for Alzheimer's disease research, education and caregiver support by asking people to symbolically restore a memory in honor of someone they may know – or may have known – impacted by the disease. Each time a visitor saves a memory, MetLife Foundation will donate $1 until the $1 million goal is met.
The online experience at saveamemory.org, developed in partnership with advertising agency CP+B, is an immersive gallery containing images and poignant memories of people who have passed away from Alzheimer's disease. To showcase the memory loss and emotional toll associated with the disease, the person with Alzheimer's is removed from each image. Visitors are then encouraged to choose a photo, and with one simple click, save the memory and help meet the $1 million goal. After the visitors save the memory, the person with Alzheimer's disease will reappear and their story will be shared. This single click will trigger MetLife Foundation to donate $1 for each memory saved, as a running tally of saved memories remains on the site.
"MetLife Foundation has been supporting medical research to help combat Alzheimer's disease for more than 25 years," said Dennis White, president and CEO of MetLife Foundation. "We are proud to sponsor this initiative because it not only helps continue the critical work of finding a cure, but equally important, it helps educate and raise awareness of the disease and provide support for caregivers."
"Alzheimer's is a disease that attacks the very essence of who we are – our minds and our memories," said Matthew Atkatz, Interactive Creative Director at CP+B. "Our hope is that the Remember Me experience will help increase awareness for this devastating disease, and that MetLife Foundation's $1 million commitment will get us closer to finding a cure."
Alzheimer's disease currently affects 5.4 million Americans and is the sixth-leading cause of death in the country. Currently, there is no cure.
About MetLife Foundation:
MetLife Foundation was created in 1976 by MetLife to continue its longstanding tradition of contributions and community involvement. The goal is to empower people to lead healthy, productive lives and strengthen communities. Underlying the Foundation's programs is a focus on education at all ages and a commitment to increasing access and opportunity. The Foundation makes grants in health, education, civic affairs and culture. (http://www.metlife.com/about/corporate-profile/citizenship/metlife-foundation/index.html)
About CP+B:
CP+B, a member of the MDC Partners network, has a client list that includes Microsoft, Unilever, Kraft, Phillips, Coke Zero, American Express, Domino's Pizza, MetLife, Old Navy, Discovery Networks, SAS and Best Buy. CP+B has more than 1,000 employees worldwide, collaborating across six factories: Boulder, Miami, Los Angeles, Toronto, London and Gothenburg, Sweden. The agency is one of the most-awarded agencies in the world, having been named "Interactive Agency of the Year" three times at the Cannes Lions International Advertising Festival, "Agency of the Decade" by Advertising Age and "Agency of the Year" 13 times in the trade press. They also have the unprecedented distinction of being the only agency to have won the Grand Prix at Cannes in every category. (http://www.cpbgroup.com.)
###