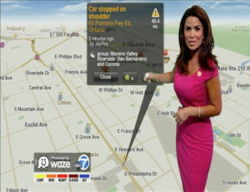 Palo Alto, Calif. (PRWEB) December 08, 2011
Waze, the leading social traffic and navigation community, announced today the launch of its broadcast partner program. Supported by an initial lineup of 12 partner stations including KGO-TV San Francisco, KABC-TV Los Angeles, WFAA-TV Dallas, and WPVI-TV Philadelphia, Waze is bringing its citizen-traffic reporting platform to the mainstream-- bridging traditional media with social networks and mobile content to augment TV traffic reporting.
Traffic Goes Social via Mobile
In a time where social media commands consumer attention, broadcasters are adopting new strategies to optimize audience engagement using new channels like Tumblr, Twitter, and Facebook. Today local traffic, the staple of rush hour news, is getting its own social makeover; and in much the same way that mobile phones gave rise to CNN's iReporting, Waze's citizen traffic is drawing on the crowd to help reshape morning broadcast news from the outside in. The magic? A free smartphone app that taps into a community of over 9 million drivers sharing real-time road conditions, accidents, and hazards with each other to help give a driver's eye view of current and potential slowdowns. With access to up-to-minute traffic information from drivers on the road, broadcasters are able to give their audiences foresight into their commutes like never before.
"We're thrilled to officially offer up our citizen traffic reporting to broadcasters," said Di-Ann Eisnor, vice president of partnerships and platforms for Waze. "We're learning that the best local stations work at startup speed, so we can get each station up and running seamlessly in just under a week."
How it Works
Using broadcast-friendly traffic tools from Waze, including branded commuter groups within the app, broadcasters can directly engage with their audiences in a meaningful and sustainable way. Traffic reporters display real-time road conditions and reports on highways and surface streets from drivers on the road, from the convenience of an iPad in the studio. In Los Angeles, home to more than 450,000 "Wazers", the ABC7 Traffic Spotters group already has nearly 3,400 active members, all participating for daily chances to have their report shown on live on TV. In turn, Waze gives broadcasters and their audiences insight into accurate traffic conditions on almost every route imaginable.
"ABC7 is excited to add Waze to our expanding set of tools to better report real-time traffic conditions. With nearly 150,000 Bay Area drivers already using the app, we'll be able to provide our viewers and users of our digital platforms with exclusive unparalleled traffic information, even on the many roads where traffic sensors aren't available," said William Burton, President and General Manager of ABC7/KGO-TV.
For information on partnership opportunities, please contact broadcast(at)waze(dot)com.
Waze is available for free the Apple AppStore & Android Marketplace or at http://m.waze.com.
About Waze
Waze is a social traffic & navigation app based on the world's largest community of drivers sharing real time road info and contributing to the "common good" out there on the road. By simply driving around with Waze open users passively contribute traffic and other road data. Users can take a more active role by sharing road reports on accidents, police traps, or any other hazards along the way, helping to give other users in the area a 'heads-up' about what's to come– and because it's 100% user-generated, the more people who use Waze, the better (and more fun) it gets!
###