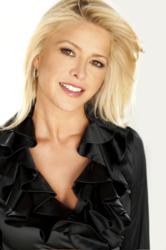 Selling LA has realized widespread popularity since airing in October -- and we're excited to be embraced by our viewers.
Los Angeles, CA (PRWEB) December 08, 2011
Returning for another season, Nicole Contreras will star in HGTV's Selling LA season two -- slated to air spring 2012.
Nicole is currently working on the freshman television series that premiered October 13, 2011 and airs Thursday nights on the HGTV television cable network.
The show highlights homes across Southern California, particularly Los Angeles. It also highlights properties from Contreras's Beverly Hills real estate firm The Valerie Fitzgerald Group that's owned by billion dollar real estate closer and broker Valerie Fitzgerald who also stars on the show.
"I'm excited that the show and HGTV viewers enjoy watching and support Selling L.A.," says Contreras. "The show has realized widespread popularity since airing in October. We're excited to be embraced by our viewers -- especially since we follow the wildly popular HGTV Selling New York, now enjoying its fourth season."
On this week's segment, Contreras has just sold her best friend's fiancee's Venice Beach home, and now must find the couple a new place on the Westside, in the $1.5M to $2.0M range. This couple is about to get married, want children right away, and they need to find a family home in a good neighborhood fast.
"Nicole is one of the smartest, personable real estate agents I know" says Adam Shaffer, owner of Undercover Boutique in Santa Monica and guest on episode 2 this season on Selling LA. "When I worked with Nicole I had full confidence in her marketing and negotiating skills. I would recommend her to anyone - which I have and will continue to do so in the future."
Watch the full episode of "Going The Extra Mile" that starred Contreras and Shaffer on HGTV's website.
Nicole has worked in high-end residential single family homes and also specializes in luxury high-rise buildings. She has a vast experience in the luxury market and has worked with big developers; Colony Capital, Crescent Heights, and ELAD Properties, where she is currently The Director of Sales at the prestigious Carlyle Residences on the Wilshire Corridor.
About Nicole Contreras
Since 2005 Nicole Contreras has been representing multi-million dollar homes and estates for clients in greater-Los Angeles exclusive neighborhoods. Nicole lives in Los Angeles and enjoys spending time with her daughter when she's not working with her clients. To work with Contreras or media interviews visit http://www.nicolecontreras.com.
###