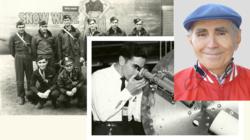 An 86-year-old World War II Veteran has broken the code to make Microsoft Word 2010 easy
Marina del Rey, CA (PRWEB) December 21, 2011
If you are having troubles with Microsoft Word 2010, an 86-year-old World War II Veteran has broken the code to make Word 2010 easy. Bob Ginsberg, who was a navigator on American bombers over Central Europe and later became a Senior Scientist at Hughes Aircraft Company, has authored a number of "How To" books to make technical applications more readily understood.
His book "Word 2010 Made Easy" is the latest in the series. It is available at his web site Word2010MadeEasy.com and is also available at Amazon.com. His web site also has free tutorial videos on how to use Word 2010.
For the past 14 years Bob had been using previous versions of Word. The books that he read on the subject seemed to be written by knowledgeable techs for knowledgeable techs. He solved that problem by writing his first book BREAK'N WINDOWS. After getting a new computer he was confronted with a much different Word 2010. He not only succeeded in understanding the new software but has written a book in his own clear style and has added large figures and illustrations to make it more easily followed. People who have been asked to review the book have been very enthusiastic about how user-friendly it is. Because Bob wants the next version of Word to be more user-friendly than Word 2010, the last three pages of his new book contain 16 suggestions for the people at Microsoft who are currently creating their new version.
At age 19 Bob Ginsberg was an Army Air Corps navigator. At age 38 he was a Senior Scientist at Hughes Aircraft Company where he helped perfect the lenses that the Surveyor spacecraft carried to the moon to photograph its surface before the Astronauts went there. At every stage of his life Bob has helped people communicate complicated ideas in simple terms. His new book is merely a continuation of that effort.
###