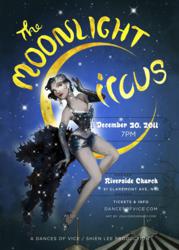 Shien Lee, Producer of Dances of Vice, Presides Over Peripatetic Costume Parties in New York. -- New York Times
New York, NY (PRWEB) December 08, 2011
Fans of the wildly fanciful Dances of Vice nightlife productions in New York City will start the countdown to 2012 a day early, as Dances of Vice CEO Shien Lee prepares to transform the historic Riverside Church (91 Claremont Ave) in Harlem into a veritable big top of thrilling entertainment and glamorous carnival delights.
Hailed by The New York Times as New York's premier event production agency for over-the-top costume parties and anachronistic productions, Dances of Vice promises an evening of enchantment and wonder at this decadent circus themed spectacle, featuring live music by vaudevillian show-stoppers Amour Obscur.
The spectacular stage show will also feature appearances by cirque, burlesque and cabaret sensations such as the midnight temptress Medianoche, tap-dancing flapper Gin Minsky, sweetheart of the sideshow Miss Ekaterina, princess of the circus Jennifer Kovacs, bubbly beauty Lil Miss Lixx, and the mesmerizing Cassandra Rosebeetle.
General Admission for "The Moonlight Circus" starts at $25 in advance with a group ticket and goes up to $50 for VIP Admission, which includes a champagne hour and gourmet hors d'oeuvres passed between 7:30-8:30PM.
Riverside Church is located at 91 Claremont Ave, New York, NY 10027. Doors open at 7PM for VIPs, and 8:30PM for General Admission.
Advance tickets and event details can be purchased from Eventbee or Dances of Vice.
###