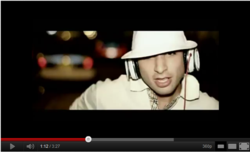 Miami, FL (PRWEB) December 08, 2011
Brazilian pop artist Jay Kei recently released the official [video for "Come Here Closer," his debut single. Coast 2 Coast Video Distribution presents the project, which can now be viewed at Coast 2 Coast Mixtapes. "Come Here Closer" was recorded in Miami, FL at Miami Recording Studios.
Jay Kei is a twenty-one-year-old Brazilian artist now living in Miami. He has always loved music as a listener, but spending some time alone in Miami in 2011, he began to listen to beats on the Internet. He found that lyrics came to him in perfect order, and that God had given him a way to change the world for the better and help others through his music. Some of his biggest musical influences are Michael Jackson, Jason Derulo, Lady Gaga, Everything but the Girl, and Gigi D`agostino. Nowadays he is immersing himself in music and meditation to finish his album and he is also working out a lot to maintain his health and body care. "Come Here Closer" is his debut single, written about someone special to him. He wants to represent that all girls should feel special, cared for, and loved. The video was recently filmed in Miami.
Miami Recording Studio, Inc. was established in 2004 and has become a popular entity that provides many services to artists in the music industry. Miami Recording Studio is a one-stop shop for all music production needs. Combining high-quality work and professionalism keeps clients coming back. It is a full-service studio featuring the latest technology for all your projects. Miami Recording Studio is conveniently located in the heart of downtown Miami.
Watch "Come Here Closer" at http://coast2coastmixtapes.com/videodetail.aspx/come-here-closer
###