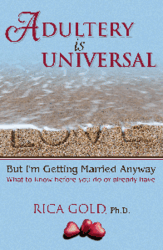 Gold takes the reader through the history of infidelity and marriage, from the dalliances of pharaohs to society's current notorious sexual affairs.
HESPERIA, Calif. (PRWEB) December 08, 2011
When people are in love and feel that their relationship is "special," infidelity is not even on the radar – until it's discovered. The author's research shows that 41 percent or more of men and women admit to physical or emotional infidelity while in a committed relationship and that nearly half of all Americans think marriage is obsolete. Approximately half of all first marriages end in divorce and second marriages have an equal percentage of failure, and yet most people still want to be married, the author writes in this new book. People yearn for and expect to have a loyal, trusting, blissful connection with another partner who wants the same thing with them and no one else. Why then does someone of character violate their commitment in spite of their desire? What if the need for marriage ceases to exist?
Licensed Marriage and Family Therapist Rica Gold explores the state of unions throughout time and introduces factors that explain the impossible dilemma couples experience today, have in the past and will in the future. She takes the reader through the history of infidelity and marriage, from the dalliances of pharaohs to society's current notorious sexual affairs while learning how technological information has contributed to the intrigue of infidelity through cybersex, online affairs and easy availability of virtual pornography.
The author examines monogamy vs. biological drive, and she offers perspective with an emphasis on effective communication to couples seeking successful marriage or experiencing infidelity. As Gold discusses the myriad of elements that contribute to this hot topic, she weaves in vivid fictional accounts throughout the book of people involved in a variety of extramarital affairs.
Adultery is Universal is a compelling, thought-provoking read, full of startling statistics and fascinating scenarios designed to aid readers who have had, are in an affair or who may be considering taking a step into adultery. Rica Gold, Ph.D., has hosted her own radio and television shows and teaches college courses in communication studies. In her private practice she provides group as well as individual life and wellness coaching to the business and private sectors. As a provider for the Board of Behavioral Science in California, Gold also writes continuing education courses for mental health professionals.
Adultery is Universal; But I'm Getting Married Anyway
Rica Gold
Dog Ear Publishing
ISBN: 978-14575-0668-0 210 pages $19.95 US
Available at Ingram, Amazon.com, Barnes & Noble and fine bookstores everywhere.
About Dog Ear Publishing, LLC Dog Ear Publishing offers completely customized self-publishing services for independent authors. We provide cost-effective, fast, and highly profitable services to publish and distribute independently published books. Our book publishing and distribution services reach worldwide. Dog Ear authors retain all rights and complete creative control throughout the entire self-publishing process. Self-publishing services are available globally at http://www.dogearpublishing.net and from our offices in Indianapolis.
Dog Ear Publishing – self-publishing that actually makes sense.
###