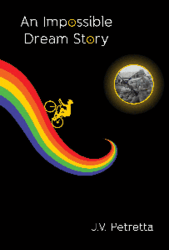 "(The book) is a fascinating story of a man struggling with his identity as he weaves his way through the latter half of the 20th century."
Buffalo, NY (PRWEB) December 13, 2011
Vincent "Vinny" Pirelli started his lifelong love affair with cycling at a young age, and his first bicycle was not only a treasured gift but an effective means of escaping his less-than-idyllic family life. His alcoholic father often verbally and physically abused Vinny and his sisters, and his mother was too focused on finding ways to keep the family fed and clothed to pay as much attention to the children as they wanted or needed. As this new novel describes, however, Vinny's beloved bicycle allowed him to forget his worries about his family as well as his troubling thoughts about other boys.
Vinny fumbled his way toward adulthood, with more trials and tribulations both at the hands of his abusive father and from relative strangers. Eventually, Vinny's thirst to prove his manhood led to him enlisting in the army just ahead of the draft. After a successful stint in the military, Vinny returned to the United States with a Thai wife and a beautiful family. Vinny threw himself into the world of business with varying success, but he was haunted by memories of a close friend from his army days -- Bobby Sox. Eventually, Vinny faces the truth, coming out to himself and his wife. In the ensuing years, his newfound sexual freedom leads him down paths that might have been better unexplored, eventually resulting in a diagnosis of AIDS. Will Vinny let his sickness oppress his spirit, or will he rise above this as he rose above every other hurdle life put in his way?
An Impossible Dream Story is a fascinating story of a man struggling with his identity as he weaves his way through the latter half of the 20th century. With lifelike, three-dimensional characters and a fun and funny style, author J.V. Petretta brings Vinny and his friends and family to life. Petretta, a graduate of the University of Maryland's European division, spent 10 years in the Army, with three tours overseas. After an honorable discharge, Petretta spent years in the workforce, collecting accolades along the way. Petretta organized and conducted a 5,000-mile bicycle tour to raise funds and awareness for AIDS.
An Impossible Dream Story
J.V. Petretta
Dog Ear Publishing
ISBN: 978-14575-0680-2 251 pages $15.95 US
Available at Ingram, Amazon.com, Barnes & Noble and fine bookstores everywhere.
About Dog Ear Publishing, LLC
Dog Ear Publishing offers completely customized self-publishing services for independent authors. We provide cost-effective, fast, and highly profitable services to publish and distribute independently published books. Our book publishing and distribution services reach worldwide. Dog Ear authors retain all rights and complete creative control throughout the entire self-publishing process. Self-publishing services are available globally at http://www.dogearpublishing.net
and from our offices in Indianapolis.
Dog Ear Publishing – self-publishing that actually makes sense.
###