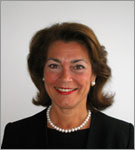 Forward-thinking family office executives will capitalize on the current investment opportunities in the United States and the global marketplace ...
Chicago, IL (PRWEB) December 08, 2011
Linda Mack, founder and president of Mack International, a premier retained executive search and strategic family office/human capital management consulting firm, was chosen as a keynote speaker for the Private Wealth Management Summit, Dec. 5-7, in Las Vegas. The meeting was organized by Marcus Evans Summits.
"Today's environment leaves many ultra-high-net-worth individuals with questions regarding the future," says Linda Mack. Her keynote presentation, titled "The Family Office Decision," was designed to help guide families through the choices involved in creating a family office, including selecting the most appropriate office model and choosing key leadership staff. She also discussed compensation trends for key family office leadership positions.
Linda Mack's address covered essential questions, such as when and why families decide to create a family office, what are alternative types of family office models, and how families decide which type of family office model is best for them. She discussed the key leadership positions in a family office, as well as the compensation drivers, structures and trends for these key positions.
Linda Mack also led a roundtable discussion on tactical asset allocation strategies and implementation. Another roundtable discussion focused on where the smart hedge fund money will be investing in 2012.
The Private Wealth Management Summit offered presentations, master classes and one-on-one meetings geared to managing the assets of affluent families. "Forward-thinking family office executives will capitalize on the current investment opportunities in the United States and the global marketplace, while strategically positioning their portfolios for future investment opportunities as the economy continues to recover," Linda Mack explains.
Summit presentations addressed the effects of emerging market inflation on the global economy, best practices in new risk-management strategies and increasing regulation, governance issues and tax-qualified plans. Other sessions explored systematic ideas in portfolio management to ensure new-product development, growing challenges in federal tax policy and predictions for 2012 expirations.
There were also presentations on the evolution of social media in the investing world, goals-based investing, contrarian investment thinking and application, and high-return, low-leverage real estate investment strategies.
"Family offices will continue to keep abreast of the latest wealth management industry trends and solutions in the marketplace," says Linda Mack. "This will help them overcome daily business challenges, as well as issues related to portfolio management, family governance, succession planning, philanthropy and family businesses."
Mack International, LLC, headquartered in Chicago, is a global retained executive search and consulting firm serving clients in the family office/wealth management industry on a national and international basis. For more information, visit http://www.mackinternational.com or call 800.976.0015.
###