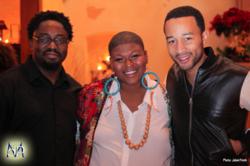 "I'm proud to be a part of Stacy's beautiful project. She's so gifted and has so much more great music in her. I can't wait for the world to hear it." – John Legend
Los Angeles, CA (PRWEB) December 08, 2011
Songwriter/Surf Club member, and recent Grammy-nominee, Stacy Barthe, has joined forces with songwriter, producer, and multi-instrumentalist, "Dapo" (Dapo Torimiro), to record a seven song Christmas EP, "STACY BARTHE PRESENTS THE SEVEN DAYS OF CHRISTMAS." The free, downloadable EP includes six classic Christmas songs and one original: "Santa Baby", "Silent Night", "O Come All Ye Faithful", "Sleigh Ride" (a duet with Dapo), "Let It Snow", "Baby It's Cold Outside" (a duet John Legend), and an original, song written by Barthe and Dapo, "All I Really Want For Christmas". The musical style is a fusion of reggae, jazz and R&B with lots of live instrumentation including live bass, acoustic guitar, piano, horns, sax, and a melodica, all performed by Dapo. The EP's style been described as a musical and vocal cross between Sade and Jill Scott but with a distinctly unique feel. Barthe draws from her Haitian roots and New York upbringing, while Dapo draws on his Nigerian roots and extensive jazz musicianship.
This is Barthe's second EP release. "Sincerely Yours, Stacy Barthe" (featuring songs with Frank Ocean and Luke James) was released via The Surf Club website in August of this year. As a hit songwriter, it was only with the release of "Sincerely Yours, Stacy Barthe" did people get to hear from Barthe herself and her work was immediately and positively received by music lovers and by online music blogs such as TheFader.com, ConcreteJungle.com and TheSource.com.
"Barthe has incredible control over her singing voice, doling out an enormous store of mid-range, smoky breath from the top of her throat in decisively timed surges and bends." -- Naomi Zeichner, The Fader
STACY BARTHE – Barthe is a Grammy-nominated, Universal Music Group songwriter and is one of the writers behind Rihanna's "Cheers (Drink to That)" which gave Rihanna her twenty-second top-twenty single on the chart and peaked on Billboard Hot 100 at #7. Barthe has worked with Melanie Fiona, Brandy, Estelle, and Akon, and producers, The Runners, Cool & Dre, Hit-Boy, Danja, and Jerry Wonder. Last week, Rihanna's LOUD album received a 2012 Grammy Nomination for ALBUM OF THE YEAR.
DAPO – An accomplished pianist, multi-instrumentalist and Yamaha-endorsed artist, Dapo got his start in music as a singer, musician and producer in the popular Nigerian music group, KUSH. Dapo was the only male in the four-member Gospel/R&B group. Dapo traveled the country as a touring musician – touring and performing with such artists as Lalah Hathaway, Lauryn Hill, and Stevie Wonder. Dapo's writing and producing credits include songs with Anika Noni Rose on two Disney's Princess and the Frog-inspired cds, Toni Braxon, John Legend, Brandy, Justin Bieber, Jordin Sparks, and David Archuleta. Although Dapo's vocals (a one-verse rap) can be heard on the Ester Dean-penned, "Up" which appears on the Step Up 3D soundtrack, Dapo's KUSH fans will be happy to hear him sing along side Barthe in the Christmas classic, "Sleigh Ride". Those same fans won't have to wait long for the next opportunity to hear Dapo sing as he has another Christmas project due out this month, "Dapo & Friends Christmas".
CLICK HERE TO DOWNLOAD "STACY BARTHE PRESENTS THE SEVEN DAYS OF CHRISTMAS"
01 SANTA BABY
02 SILENT NIGHT
03 O COME ALL YE FAITHFUL
04 SLEIGH RIDE - FT. DAPO
05 LET IT SNOW
06 BABY IT'S COLD OUTSIDE - FT. JOHN LEGEND
07 ALL I REALLY WANT FOR CHRISTMAS
Media Contact For Stacy Barthe:
Terrell Brown
718.207.3723
frustratedcreation(at)gmail(dot)com
Media Contact For Dapo:
Lisa Murray
818.261-5064
dmp(dot)press(at)gmail(dot)com
###