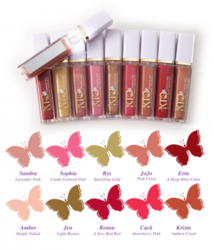 "Just look at the ingredients on most lip products, they aren't something that should be on or in your mouth!" stated Kelly Teegarden, founder of Kelly Teegarden Organics
Los Angeles, CA (PRWEB) December 08, 2011
'Tis the season to bid goodbye to dry, chapped, colorless lips. Kelly Teegarden Organics is giving you a reason to smile this holiday season with their new KTO Lip Gloss. Made with dragon's blood (sap from dragon's tree) and other healing ingredients, KTO's lip gloss leaves the lips feeling moisturized and radiant with color. Available now for a MSRP of $25.00 these refreshing glosses make the perfect stocking stuffer.
With the dry winter season just around the corner, maintaining skin and lip care is essential to avoid cracking and drying. With ten different colors to choose from, KTO lip glosses offer vibrant variety and protection against the elements. This without the worry and critical danger associated with harmful chemicals, like lead, typically found in most of today's makeup and skin care products.
"My daughter is the reason I added lip gloss to KTO's line of skin care products. Just look at the ingredients on most lip products, they aren't something that should be on or in your mouth!" stated Kelly Teegarden, the company's founder. "When formulating our products, all ingredients are researched in relation to carcinogenic and endocrine disrupting properties and tendencies."
KTO lip glosses feature an applicator with an LED light that shines perfectly on your lips. Available now at http://www.kellyteegardenorganics.com.
WHAT CHEMICAL FREE MEANS TO KTO:
No cancer-causing ingredients
No organ toxicity
No endocrine disruptors
No toxic levels of ingredients
Natural preservatives based on salt
Never tested on animals
Kelly Teegarden Organics LLC, a privately owned organization, is firm in its belief that nature provides the human body its best defense against the damages of aging and disease. The Company's primary focus is to provide the consumer cutting edge chemical-free skin care products. KTO aims to promote proven health benefits using natural elements. The Company was founded by Kelly Teegarden, a stage III thyroid cancer survivor and tireless health advocate who is passionate about sharing her experience and helping others to make the daily personal choices to live a healthy life. Her gratitude and zest for life encouraged her to give back; to give the world a healthy choice in skin care. Based in Los Angeles, Kelly Teegarden Organics LLC formulates, manufactures, and distributes the Kelly Teegarden Organics (KTO) line of personal skin care products.
# # #