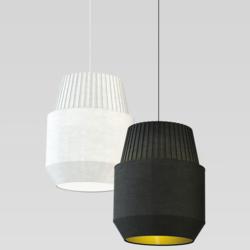 Sacramento, CA (PRWEB) December 08, 2011
Lumens Light + Living has introduced the self-branded lighting collection from design studio Rich Brilliant Willing, now available at Lumens.com. The design trio's unique approach to product design has led to swift international success since it was founded in 2007. They since have created products for companies like Roll & Hill and Innermost, as well as the Rich Brilliant Willing line of contemporary lighting.
Rich Brilliant Willing is dedicated to innovation, using materials, colors and forms in new and unexpected ways. Rich Brilliant Willing isn't merely a name, but points to the group's greatest strength—reimagining what was already there, and turning it into something new and coveted. That ingenuity is seen in the three different series in their self-branded collection.
Rich Brilliant Willing's Delta Collection is a collection of contemporary lighting includes ceiling lights, a floor lamp and table lamp that was inspired by propulsion systems and rooftop vents. Made to be used with energy-efficient bulbs, the Delta Collection merges traditional techniques with new directions to create its unique (yet somehow familiar) form.
The Quart Table Lamp and the Quart Floor Lamp was born from a spare can of paint and piping that was lying around the Rich Brilliant Willing studio. The simple cylindrical volumes were inspired by architectural aluminum extrusions and building blocks.
The Channel Table Lamp and Channel Floor lamp are aptly named for the "channeling" of all energy and resources into a lightweight, low-energy fixture that uses less than 8 watts of power. Its sleek, minimal forms are made from maple wood and steel, using state-of-the-art technology for lamping.
The name Rich Brilliant Willing is a take off of the designer's names: Theo Richardson, Charles Brill and Alexander Williams. But it's not just their names that work well together. The mechanics of the design trio is simple: their sum is greater than their individual parts, with each member bringing a distinctive strength to the group: one focuses on materials; another on color and form; and the third brings an element of spontaneity and dramatic energy to everything the group creates.
Rich Brilliant Willing has also designed products for international lighting, furniture and accessory companies. Other designs by Rich Brilliant Willing include the Excel Collection for Roll Hill (inspired by the spare, abstract lines of line graphs), the Clinker Collection for Innermost (inspired by Clinker shipbuilding), and the Bias Clock by Areaware, a clock that can be hung in any direction.
In addition to the Rich Brilliant Willing Collection, Lumens.com also offers:
-Free shipping on orders of $50 or more (exclusions do apply)
-Low-price guarantee
-Expert service via our customer service center
-Easy, no-hassle returns
-Volume order discounts
-More than 300 manufacturers from all over the globe, offering everything from contemporary lighting to transitional fixtures and modern furnishings, gifts and home accessories.
For additional information on Rich Brilliant Willing designs, contact Sarah Schaale or visit lumens.com.
About Lumens Light + Living:
Lumens Light + Living is dedicated to offering the very best of design-oriented lighting, fans and home accessories, from the most contemporary international designs to modern interpretations of classic design.
Contact:
Sarah Schaale, Assistant Marketing Manager
Lumens Light + Living
###