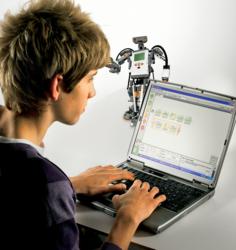 We are honored to be of service in filling the STEM educational needs for BSA. Oklahoma's youth is blessed to be surrounded by civic hearted professionals like Mike Wepel of Tinker AFB.

Ramier (Ray) Shaik,
Founder & CEO, techJOYnT
Oklahoma City, OK (PRWEB) December 08, 2011
When people think of the Boy Scouts of America (BSA), they envision activities like camping, knot-tying, and canoeing, but soon, they'll need to add robot-building to that list. Through the introduction of the Robotics merit badge, scouts now have the opportunity to design, build, and demonstrate a robot of their own creation. The Robotics merit badge is part of 31 merit badges developed to promote science, technology, engineering and math, fields collectively known as STEM.
Providing opportunities like the Robotics merit badge will encourage youth to explore entering the future Oklahoma Science and Engineering workforce which will keep Oklahoma competitive in the technological industry.
There are logistical challenges associated with offering the Robotics merit badge for youth development organizations such as BSA. Teaming between the BSA and local organizations with their primary focus on STEM education provides opportunities to overcome these barriers. One example of teaming in the Oklahoma City area is techJOYnT and Boy Scouts of America (BSA); Last Frontier Council; Troop 267.
"It is critical to understand that our youth are the future", said Mike Wepel; Scoutmaster of Troop 267. "The scouts in my troop have shown a great desire to work on the Robotics Merit Badge and I have taken the challenge to provide that opportunity to them. I am excited to discover local organization, techJOYnt, through its non-profit educational foundation is interested in working with the BSA to provide an opportunity to our scouts in gaining knowledge and experience that prepares them for the workforce."
techJOYnT Education Foundation is providing the learning environment, resources, and curriculum to enable BSA Troop 267 scouts in exploring the world of personal robotics. The event will be held on December 10, 2011 at newly established techJOYnT campus on 8328 Glade Ave, Oklahoma City, OK next to YMCA in Rockwell Plaza on the corner of NW Expressway and Rockwell.
"It is our pleasure to host over 30 scouts from BSA Troop 267. We expedited our renovation schedule to be of service to Mike Wepel. We plan on being resourceful to many other Oklahoma youth groups in the community including BSA. I believe in the problem solving abilities of our young and continue to be amazed at the creative abilities of the young minds." said Tara Walker, event co-ordinator at techJOYnT. Tara has judged several competitive robotic challenges in last four years.
"In addition to the STEM application these youth learn soft skills such as team work, respect, and gracious behavior" added Mike Hoy, DJ at Lowtech Productions who is instrumental in creating a sports like ambience at several Oklahoma robotic challenges for four consecutive years including techJOYnT events.
To support the overwhelming demand for Winter, Spring, and Summer camps techJOYnT is offering internships to community high school and college students. The internship positions are listed on greater grads website
techJOYnT sparks creativity at an early age through hands on Science, Technology, Engineering, Arts, and Math (STEAM) camps. Progressive learning tracks are offered to ages 4 through 17 giving each student an engaging learning environment. techJOYnT's unique peer to peer learning approach combined with minds-on activities reinforces STEAM concepts to make learning happen while students are having fun. The classes are offered at three convenient locations in Edmond, Midtown, and Oklahoma City. Visit techjoynt (dot) org or call (855) tech.JOYnT for more information on class schedules, pricing, and training locations. techJOYnT is a training partner for Lego Education and offers professional development sessions to support community schools.
###
.