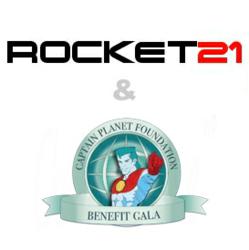 "I've wanted to go to the Georgia Aquarium, and now to see it in person and meet these amazing people who also care about animals and the planet is just awesome, said Grand Prize Winner Tommy Whiteley.
San Francisco and Altanta (PRWEB) December 08, 2011
Rocket21™ (the new social network where kids explore amazing possibilities for their lives and futures) and the Captain Planet Foundation(supporting hands-on environmental projects for children and youth) have announced the winners in the Dream Green Contest, designed to increase awareness of green careers and lifestyle choices among 21st century kids.
The contest is the first in Rocket21's Dream Here Dream Big Series – an ongoing promotion featuring life-changing, inspirational opportunities for tweens and teens.
Connecticut 7th Grader Tommy Whiteley was selected as Grand Prize Winner for his ideas on how artificial ice flows could save polar bears who risk drowning on marathon swims caused by vanishing ice. Tommy and his family will join environmentalist and media titan Ted Turner, Oceanographer Sylvia Earle, Emmy Award Winner Jeff Corwin, and 26x Grammy Winner Alison Krauss as VIP guests at the Captain Planet Foundation Gala, held this Friday, 12.9, at Atlanta's Georgia Aquarium.
The twelve-year old is looking forward to the experience. "I have wanted to go to the Georgia Aquarium since I first learned about it, but then to be able to see it in person and meet all of these amazing people who also care about animals and the planet is just awesome," said Whiteley.
"We were all so impressed", said Christina Stevens, Captain Planet Foundation Interim Executive Director. "We received some really high level, innovative, completely out of the box ideas from so many young people. This is what the Captain Planet Foundation is all about. Inspiring and supporting hands-on environmental projects that provide solutions for the challenges we are facing today in our ever changing environment."
10 year old Georgia Student Carter Ries was selected as Second Place Winner, recognized for a Plastic Awareness Week school curriculum developed together with his sister, Olivia. Both students are excited to be guests at the Atlanta event. Nine year-old Olivia noted, "This is my first ever Gala … it's a once in a lifetime thing!" Carter added, "I'm so excited to meet the winner! I'm hoping that I meet some famous people too!"
"Rocket21 is about supporting all kids' dreams, every single day. Together with Captain Planet Foundation we've designed a very special opportunity for Rocket21 members to share their ideas for protecting the planet with some of the world's leading environmentalists." said Rocket21 President and COO Jodell Seagrave. "No doubt this experience will be a force in shaping their futures."
About Rocket21
Rocket21 provides unprecedented access to world-class experts and organizations while protecting them with a combination of state-of-the-art, real-time filtering and human moderation, extensive safety and security precautions, and a specialized infrastructure designed to keep kids safe.
Like Rocket21 on Facebook and Follow @Rocket21 on Twitter. For more information about Rocket21, please contact Media Relations at media(at)rocket21(dot)com.
About Captain Planet Foundation
The Captain Planet Foundation promotes and supports high quality educational programs that enable children and youth to understand and appreciate the world, through active, hands-on learning experiences.
For more information about Captain Planet Foundation, please contact Rebecca at becca(at)captainplanetfdn(dot)org.
###